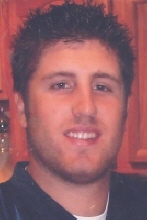 Obituary for Adam James Yates
Winnebago - Adam James Yates, 24, of Winnebago, past away Sunday, February 13, 2011, in southwest Wisconsin, of injuries sustained from a snowmobile accident. Born September 21, 1986, in Rockford, the son of Richard and Doreen (Wilhelms) Yates. Adam graduated from Winnebago High School in 2005 and attended Kishwaukee College. He kept busy all year long with outdoor activities and managed his own lawn care business, ABC Lawn Care, and was vice president of Winnebago Sno-Gliders. Adam was an avid softball player and ran the softball leagues in Winnebago. In addition, he was a devoted Chicago Bears and Cubs fan, and loved boating and riding his Arctic Cat snowmobile any chance he had during the winter.

Adam is dearly loved and will be greatly missed by his surviving family and friends, including his precious daughter, Ella Anderson-Yates; parents, Rick and Doreen Yates; sister, Ashley Yates; grandparents, Art and Wylladene Yates and Lyle and Darlene Wilhelms, all of Winnebago; great-grandmother, Margorie Wilhelms of Freeport; numerous aunts, uncles and cousins; dear friends, Danielle Cull of Durand and Ella's mother, Molly Anderson of Winnebago; and many wonderful friends.

Adam's family would like to thank everyone for their support during this time.

Funeral Information

Service is at 2:00 p.m., Friday, February 18, 2011, in New Life Bible Church, Route 20 at Hoisington Rd., Winnebago, with visitation from 10:00 a.m. until service time; Pastor Tim Spickler will officiate. Burial in Winnebago Cemetery.
Read More