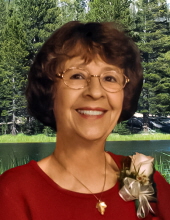 Obituary for Adrienne "Abby" Jeanne Lindquist
Adrienne "Abby" Jeanne Lindquist, 89, of Pecatonica, died Sunday, October 2, 2022, at Morning Star Village in Rockford. She was born March 31, 1933 in St. Paris, OH, the daughter of Kenneth Franklin and Elizabeth Irene (Culp) Mitchell. She graduated from Pecatonica High School in 1951. Abby married Richard "Rick" Allen Lindquist on November 15, 1952 in Pecatonica.
Abby was a homemaker for many years before working in the accounting department at Rockford Memorial Hospital. Later she worked as a secretary for Best Realty and Ipsen Ceramics in Pecatonica, the Gazette Newspaper office in Durand, and temporarily at several other area companies through Furst Staffing services. For 11 years after retiring, she and Rick delivered flowers for Forget Me Not Floral in Pecatonica. When they weren't delivering flowers they enjoyed playing slot machines and made many trips to the Diamond Jo Casino in Dubuque, IA and the Ho Chunk Casino in Baraboo, WI. They also loved to take longer trips that eventually covered much of the United States. Abby always recorded the memories of these trips on cassette tapes while on the road. In her spare time Abby loved to do crossword puzzles, play handheld electronic games, and sit at her computer to play simulated slot machines.
Abby is survived by her children, Diana Facer of Pecatonica, Barbie (Greg) Doran of Pecatonica, Paul Lindquist of Beloit, WI; son-in-law, Bill (Tami) Parkins of Rockton; grandchildren, Chris (Jenny) Parkins, Andy (Meredith) Parkins, Angie Redwine, Carrie (Mike) Julson, Jake Holland, Adam (Erin Seipts) Holland, Justin (Meghan) Doran, Kyah Bean, Madeline Lindquist, Kayla Lindquist; twelve great-grandchildren; sisters, Dixie (Richard) Sarver, Marianne "Quennie" (Jerry) Cox, Melanie "Susie" (Donald) Johnson, Claudia "Jo" Dickinson, brother, Kenneth "Ronnie" (Linda) Mitchell, sister-in-law, Joanne Lindquist of Rockford; and many nephews and nieces.
Abby is predeceased by her husband of 65 years Rick Lindquist; daughter, Pam Parkins; grandson; Ryan Rhodes; and son-in-law, Robert Facer.
A celebration of life will be held at a later date. Cremation rites accorded.
Arrangements by Genandt Funeral Home, 602 N. Elida St., Winnebago. For an online obituary and tributes go to www.genandtfuneralhome.com.
Read More