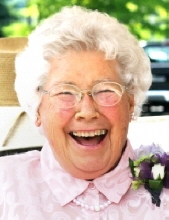 Obituary for Agnes E. Diehl
Winnebago - Agnes E. Diehl, 92, of Winnebago, went to be with the Lord on Sunday, July 17, 2016, from Alpine Fireside Health Center, Rockford. Born July 1, 1924, in Winnebago, the daughter of Alfred and Grace (Smith) Bridgeland. She graduated from Byron High School in 1942 and attended Bradley College. Agnes married Kenneth W. Diehl on December 14, 1946, in Middle Creek Presbyterian Church, Winnebago. Together, they farmed in the Seward area. She was a very active member of First Assembly Church n/k/a Rockford First and its ministries, having served as the Sunday school teacher and superintendent for many years. In addition, Agnes was a volunteer at the Goldie Floberg Center and was an accomplished pianist and organist, having played in several churches in the area. She loved gardening, birdwatching, and fishing with her family.

Agnes dearly loved spending time with her family and will be greatly missed by them, including her daughter, Susan Miller, of Whiting, N.J.; sons, John (Lari) Diehl and Wayne (Judy) Diehl, both of Winnebago; grandchildren, Robert, David and Steven Miller, Jamie Bell, Lindsey Dykstra, Kelly Miller, Bryan Diehl, Bethany Petillo, Rebekah Veal and Joel and Jessica Kloster; great-grandchildren, Jacob Miller, Hunter, Aiden and Gracie Bell, Blake and Saylor Dykstra, and Landon and Max Petillo. She was predeceased by her husband, Ken on February 6, 2011; son-in-law, Robert Miller; daughter-in-law, Lori Diehl, and grandson Matthew John Diehl.

Funeral Information

Service is at 10 a.m. Thursday, July 21, 2016, in the south auditorium at Rockford First, 5950 Spring Creek Road, Rockford, with Pastor Bob Taylor officiating. Burial in Middle Creek Cemetery, Winnebago. Visitation 5 p.m. to 7 p.m., Wednesday, July 20, 2016, in Genandt Funeral Home, 602 N. Elida St., Winnebago.
Read More