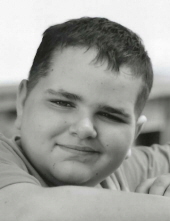 Obituary for Aiden Hunter Doner
Aiden Hunter Doner

It is with great sorrow we announce the passing of our sweet boy, Aiden Hunter Doner, 14, of Winnebago. Aiden passed away peacefully in his parents' arms on January 5, 2022, after fighting courageously for the third time against pediatric cancer. Aiden was born on January 18, 2007, to parents Jeremy and Nichole "Nicky" Doner, in Rockford, Illinois.

Aiden faced cancer and late effects of treatment with tremendous grace and humility. "He definitely had a purpose for life here on Earth as he blessed each of us with his presence and taught us the true meaning of life and love." eloquently stated by Susie Burke, a cherished member of his care team. Aiden's footprint stretches far and wide. His purpose for life on Earth was evident by the profound impact he had on each life he touched. Though Aiden faced a myriad of challenges that set him apart from his peers, he made friends everywhere. Aiden had a genuine interest in learning more and hearing about other people's lives. Some of the questions he liked to ask: "What's your favorite color?" "What's your favorite animal?" "What's your favorite dinosaur?" "Do you have any pets?" "Do you have any kids?"

Aiden didn't just like things, he LOVED them. He loved the color green, collecting Jurassic World dinosaurs (favorite being the T-Rex), and learning about various animals and dinosaurs in his book collection. Movie collecting, YouTube video watching, and dancing and singing were among his favorite things. Aiden loved bug hunting (especially for praying mantis) and his 23 pets with all his heart.

A special thanks to:

Dr. Meg Browning for being our rock and guiding and supporting us every step of the way with her no-stone-unturned approach relating to Aiden's care. No words can express the respect and gratitude we have for her. She became and will forever remain a part of our family.

Nurse Renee for her remarkable care and support for both Aiden and our family over the years. Another forever addition to our family.

Laurie Good, a constant presence of comfort and peace during Aiden's extensive care. Laurie became another extension of our family.

Denise and Denette, special friends at Children's Milwaukee whom Aiden and our family always looked forward to seeing.

Children's Milwaukee Solid Tumor Team, HOT team, PICU, and the amazing nurses, doctors, surgeons and medical staff who cared for our sweet boy throughout his life.

Dr. Mustafa and his staff for always welcoming us with open arms and caring for Aiden in the best possible way.

Camp One Step family for allowing Aiden the opportunity to be part of their mission and experience the fun and adventure despite his cancer diagnosis.

Aiden the Fight for Life softball family with whom he experienced 11 years of love, laughter and freedom.

Jackie Anderson, Aiden's Hearing Itinerant who loved Aiden as if he was her own.

Mrs. J (Lisa Jurkovic), Aiden's class, Andrea McGrew and Tim King for the tremendous effort in bringing fun and a special touch to Aiden's home over the last year and a half. Those days kept his spirits high and gave him something to look forward to.

Shelby and Chelsea, Aiden's one-to-one aides, for having such a heartfelt impact on his educational experience while simultaneously making sure his care and safety were always a priority.

Pecatonica Elementary and Middle School for embracing "all things Aiden" throughout his school years.

Aiden is lovingly survived by his parents, Jeremy and Nichole Doner; brother, Colten Doner; grandparents, Gene and Wendy Johnson, Shirley Doner; great-grandmother, Madeline Baker; aunts and uncles, Jim (Karen) Johnson, Diane "Aunt Di" Capriola, Dan (Jill) Johnson, Scott (Cathy) Doner, Teresa Banister-Doner, Jim Doner, Candis Peterson, Melody Hartman; cousins, Wyatt, Breyah and Breylon Johnson, Jerika (Josh) Goike, Michael and Bishop Capriola, Mackenzie, Zachary, and Jacob Johnson; several cousins and other family members.

Aiden is predeceased by his great-grandparents, Gene and Elsie Johnson, Richard Baker; uncle, Gene Johnson III.

YOU ARE MY MIRACLE
I am your parent, you are my child.
I am your quiet place, you are my wild.
I am your hush now, you are my lyrical.
I am your peace on Earth, you are my miracle.

Aiden loved selflessly with his whole heart. Each individual lucky enough to know him is truly a better person after being touched by his presence and love for life. His purpose continues and his legacy lives on forever.

A Celebration of Aiden's Life, "Aiden's Day At The Park" will be held Saturday, July 2, 2022, at the Ken Hurd and Bob Young Memorial Park, 500 W. Soper Street, Winnebago. A fun day and night of children and family activities will be announced at a later date. Follow Aiden's Day At The Park on Facebook where event details will be announced. Aiden's Ballpark Snacks will be open that day for concessions.

In lieu of flowers a memorial will be established in Aiden's name. The Aiden Doner family can be reached at Post Office Box 532, Winnebago, IL 61088.

Cremation rites are accorded. Arrangements by Genandt Funeral Home, 602 N. Elida St., Winnebago. For an online obituary and tributes go to www.genandtfuneralhome.com.
Read More
Memorial Contribution
In lieu of flowers a memorial will be established in Aiden's name.
The Aiden Doner family can be reached at Post Office Box 532, Winnebago, IL 61088.