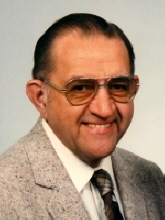 Obituary for Albert O. Schwandt
Rockford - Albert O. Schwandt, 88, of Rockford, died Wednesday, October 3, 2012, in Emeritus at Rockford. Born March 27, 1924, in Bloomington, the son of Rhinehardt and Stella (Shuth) Schwandt. Graduated from Heyworth High School in 1942. Served in the U.S. Army from February 11, 1943 to December 19, 1945, during WWII. Albert married Chloe Richesin on March 4, 1944, in Bloomington. He owned and operated Smith Oil service stations in Rockford for many years, and retired from Barnes Drill as a machinist in 1989. Al was an active member of Middle Creek Presbyterian Church, American Legion Post No. 197 and Westfield Grange. He enjoyed hunting, fishing, photography, traveling, gardening, tinkering, watching ball games on TV, playing the organ and harmonica, and playing cards and games with family and friends.

Al is lovingly survived by his wife, Chloe Schwandt; children, Rod (Brigitte) Schwandt and Carole (Efrain) Santiago, all of Rockford; grandchildren, Daniel (Coni) and Alan (Monica) Schwandt, Marcos Rivera, and Allegra and Stephen Santiago; great-grandsons, Shea and Terrance Schwandt, and Sebastian Rivera; sister, Lauretta Coleman of Rockford; several nieces and nephews; and three cousins. Predeceased by his parents; daughter, Kristen Schwandt; brother, Roy Schwandt; and sister, Wilma Feathers.

Funeral Information

Service at 11:00 a.m., Thursday, October 11, 2012, in Middle Creek Presbyterian Church, 12473 Montague Rd., Winnebago, with visitation from 10:00 a.m. until service time; the Rev. Anita Stuart-Steva will officiate. Private burial in Middle Creek Cemetery, Winnebago.
Read More