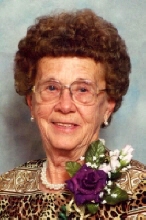 Obituary for Alberta S. Ferdinand-Koehler
Winnebago - Alberta S. Ferdinand-Koehler, 92, of Winnebago, died Sunday, May 13, 2012, in her home, after a sudden illness. Born October 27, 1919, in Rockford, the daughter of Albert and Jennie (Ruberg) Fibbrow. Graduated from Winnebago High School in 1938. Alberta married Loren F. Ferdinand on September 7, 1946, in Rockford. He died on December 13, 1990. She was the first female bus driver for the Winnebago School District, retiring from driving after 26 years. Alberta and Loren had many years of enjoyment at Lake Wisconsin and Zephyrhills, Fla., with many of their friends. She married Louie Koehler in Appleton, Wis. on June 11, 1994. He died on November 12, 1997. They enjoyed sharing their time between Florida, Winnebago, Appleton, and the cottage at the lake. Alberta enjoyed all the weekly senior bus trips with her senior friends and bus driver, Margie Hartman.

Alberta is lovingly survived by her daughters, Sandra (Michael) Livingston and Mary Grotto, both of Winnebago; grandchildren, Kimberly (Shawn) Ponds, Kris (Tim) Canter, Tony (Julie) Grotto and Angie (Mark Mickiewicz) Grotto; great-grandchildren, Zachary and Olivia Fiorenza, Amelia Grotto, Tyler Manrriquez , Kyra and Jeromy Ponds, and Baby-to-be Canter; and dear friend, Ron (Susan Dicks) Cooksey. Her second family survivors include stepdaughters, Sandy (Bob) Schinke and Margie (Art) Krause, both of Gresham, Wis.; stepsons, Frank (Jean) Koehler of Shawano, Wis., Ron (Vicki) Koehler of Black Creek, Wis. and George (Sandy) Koehler of Sherwood, Wis.; ten stepgrandchildren; and eleven stepgreat-grandchildren. Also predeceased by her parents.

Funeral Information

Service at 2:00 p.m. Wednesday, May 16, 2012, in Genandt Funeral Home, 602 N. Elida St., Winnebago, with visitation from 1:00 p.m. until service time; the Rev. Larry Moody, pastor of Burritt Community Church, Rockford, will officiate. Burial in Willwood Burial Park, Rockford.