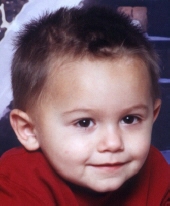 Obituary for Alexzander Miles "Big Al" Huenefeld
Though his smile eludes us, his laughter will ring on in our hearts forever.

Freeport - Alexzander Miles "Big Al" Huenefeld, 2, of Freeport, was called home to heaven Sunday morning, May 6, 2007. Born on October 22, 2004, in Freeport, the beloved son of Randy and Ashley (Stroud) Huenefeld. A Redskin and Tony Stewart fan, Big Al also loved sports, Spiderman, the outdoors and motorcycles. He loved dancing with his sissy, Hailey Bug.

Big Al will be greatly missed and is lovingly survived by his parents, Randy and Ashley Huenefeld of Freeport; sisters, Brittany and Hailey Huenefeld of Freeport; grandparents, LeRoy Huenefeld of Freeport, Toni Huenefeld of Orangeville, Kelly Staas of Orangeville and Kathleen Stroud of Freeport; great-grandparents, Laurence Boss, Jr. of Rockford, Nadine Lawrence of Rockford, Shirley Lawson of Winslow and Miles and Ruth Frankenfield of Freeport and many aunts, uncles, cousins and friends.

Big Al was predeceased by his grandpa, Joe Stroud on March 14, 1993 and his great-grandparents, Arnold Lawson, Joseph and LaVina Huenefeld, and Albert and Betty Jo Stroud.

Funeral Information

Service is at 1:00 p.m., Friday, May 11, 2007, in Genandt Funeral Home, 602 N. Elida St., Winnebago, with Pastor Herman Brown, pastor of Lincolnwood Baptist Church, in Rockford, officiating. Burial in Willwood Burial Park, in Rockford. Visitation 4:00 p.m. to 8:00 p.m., Thursday, May 10, 2007, in the funeral home.
Read More