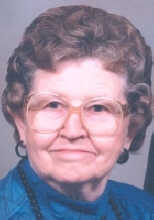 Obituary for Alice A. Heslop
Loving Mom, Grandma, Great-grandma and Great-great-grandma

Rockford - Alice A. Heslop, 88, of rural Rockford-Winnebago, died Friday night, May 6, 2011, in her home, surrounded by her loving family, after a short illness. Born March 1, 1923, in Platte, S.D., the daughter of Nicholas and Sophia (Jansen) DeWall. Graduated from Leeds (Iowa) High School, in 1941. Alice was married to her high school sweetheart, Merlin W. Heslop, for 68 years. She was a devoted wife and loving mother. Alice worked for J.C. Penney for more than 20 years and was an active member of Evergreen Covenant Church. She loved crocheting and gardening and truly enjoyed all the family gatherings.

Alice is lovingly survived by four sons, Dewey (Lois) Heslop of Pecatonica, Don Heslop of Lake Summerset, David (Shirley) Heslop of Winnebago and Gary (Diane) Heslop of Rockford; two daughters, Cindy (Bob) Hunter of Pecatonica and Karen (Larry) Anderson of Rockford; 20 grandchildren; 39 great-grandchildren and a great-great-grandson; sister, Mae (Kenneth) Freitag; sister-in-law, Alice Uphouse; and several nieces and cousins. She was predeceased by her parents; husband on December 21, 2007; grandson, Douglas Heslop; guardian great-grandson, David Riffe, Jr; daughter-in-law, Pat Peterson; brothers, Duane, Milton and Vernon DeWall; sisters, Leona and Beatrice DeWall; and nephews, Michael and William Freitag.

Alice's family wishes to thank Dr. Susan DeGuide; nurse, Julie; and the staff of VNA for their care and support. A very special thank you is given to Alice's granddaughters for the gentle and affectionate care provided by them during her final days; Grandma would have been proud.

Funeral Information

Service is at 11:00 a.m., Tuesday, May 10, 2011, in Genandt Funeral Home, 602 N. Elida St., Winnebago, with Pastor James Schwalm, of Evergreen Covenant Church, Rockford, officiating. Burial in Twelve Mile Grove Cemetery, Pecatonica. Visitation 5:00 p.m. to 7:00 p.m., Monday, May 9, 2011, in the funeral home.