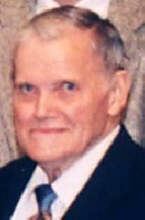 Obituary for Allen L. Hamer
Byron - Allen L. Hamer, 85, of Byron, passed away Wednesday night, February 17, 2010, in Ogle County Hospice Serenity House, Oregon. Born October 6, 1924, in Rockford, the son of Harvey and Rena (Smith) Hamer. Graduated from West High School, Rockford, in 1942. During WWII, served in the U.S. Army as a staff sergeant in the 187th Glider Infantry, from November 17, 1944 to November 19, 1946, as part of the U.S. Occupation Forces under General Douglas MacArthur at Sappora, Japan. He received the Parachute Badge and Expert Rifleman Badge along with various theater ribbons. Allen married Charlotte M. Null on February 14, 1948 in First Presbyterian Church, Winnebago. Together, they dairy farmed for a number of years on farms in Burritt Township and rural Rockford, and actively supported their children in 4-H and other activities through the years. In 1964, they moved to the Hamer family farm on Trask Bridge Road, in Burritt Township, where they continued farming. In 1972, they left farming and moved to Byron. In addition, he was head mechanic for ACME Ready Mix, Loves Park, retiring in 1987, after over 20 years of service. Upon retiring, Allen and Charlotte enjoyed traveling with family and friends, taking Caribbean cruises, touring the South, and visiting family in the states of Minnesota, Washington and Rhode Island.

Survivors include his children, Thomas Hamer of Byron, Denise (Terry Vogt) Reiniche of Oregon and Dianne (Ernest) Buchanan of Wauconda; granddaughter, Cristine (Andrew) Goodfellow of Lake Villa; great-grandsons, Isaac and Aaron Goodfellow; and niece, Janet (Richard) McCray of Winnebago. He was predeceased by his parents; wife of 60 years, Charlotte, on June 5, 2008; brother, Morris Hamer; and nephew Morris "Bud" Hamer, Jr.

Funeral Information

Service is at 12:00 p.m., Monday, February 22, 2010, in Genandt Funeral Home, 602 N. Elida St., Winnebago, with visitation from 11:00 to service time; the Rev. Dr. Larry A. Moody, pastor of Burritt Community Church, in Rockford, will officiate. Burial in North Burritt Cemetery, in Winnebago.
Read More