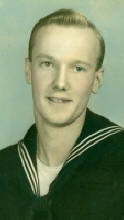 Obituary for Ambrose A. Kopp
Winnebago - Ambrose A. "Bud" Kopp, 88, of Winnebago, died Thursday, January 15, 2015, in Neighbors Rehabilitation Center, Byron, following a lengthy illness. Born March 12, 1926, in Rockford, the son of Leo and Lillian (Surby) Kopp. Graduated from East High School, Rockford, in 1943. Served in the U.S. Navy from February 25, 1944 to May 22, 1946, during WWII, in the Asiatic-Pacific area. Bud married Ellen L. Smith on December 12, 1952, in Middle Creek Presbyterian Church, Winnebago; she died May 1, 1999. He then married Myrtle J. McDonald on February 18, 2000; she died June 13, 2012. Bud was a television repairman for Howard Mitchell and then Vaughn's Home Furnishings and a member of the Seward Historical Society. He enjoyed operating a ham radio, communicating all over the world, repairing watches and clocks, feeding and watching the birds and going to New Glarus to listen to polka music.

Bud is survived by dear friend, Bev Hayenga of Winnebago, brother-in-law, Art Swanson of Rockford; brother- and sister-in-law, Don and Margaret Brocker of Seward; one niece; and two nephews. He is also predeceased by his parents; son, Joel Kopp; and sisters, Marjorie and Carol Swanson.

Funeral Information

Service is at 11:00 a.m., Saturday, January 24, 2015, in Genandt Funeral Home, 602 N. Elida St., Winnebago, with visitation from 10:00 a.m. until service time; the Rev. Dr. Anita Stuart-Steva, pastor of Middle Creek Presbyterian Church will officiate. Cremation rites have been accorded. Private burial in Middle Creek Cemetery, Winnebago.
Read More