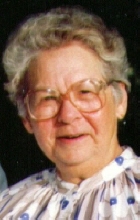 Obituary for Ardith F. Kloster
Winnebago - Ardith Florence (Runte) Kloster, 96, of Winnebago, was born January 15, 1917, in Freeport, and passed from this life on Wednesday, February 6, 2013, at River Bluff Nursing Home, Rockford. Ardith was the only daughter of Oscar and Edna (Pfeil) Runte. She was the wife of Carlton LeVere Kloster (1913-2001). Ardith is survived by one brother, Earl Runte of Phoenix, Ariz.; eight children, Fred (Barb) of Aurora, Colo., Philip (Judy) of Winnebago, John (Robin) of Granger, Ind., Bethany (Russell) Knight of Chicago, Bryan (Susan) of Rockford, Bradley (Patricia) of Rockton, Keith (VeVe) of Springfield, Ore, and Nathan (Julie) of Sycamore; 24 grandchildren; and 20 great-grandchildren. Predeceased by four great-grandchildren.

Ardith grew up on the Runte family farm on Baileyville Road, Freeport, with six brothers: Eugene, Lloyd, Harold, Donald, Dale, and Earl. Her father, Oscar, died August 8, 1963, and her mother, Edna, died on August 13, 1932. After the death of her mother, Ardith's life was marked by many years of faithful, sacrificial love and care for her father and six brothers. Ardith graduated from Moody Bible Institute, Chicago, in 1943. She married Carlton L. Kloster, of Freeport, on December 15, 1945, in Highland Park, Michigan. Ardith lived in Winnebago from August 3, 1953 until her move to River Bluff Nursing Home in May, 2005. She was a member of Forest City Baptist Church, Rockford. Her love for her Lord and Savior, Jesus Christ, was the source of her motivation to love and serve others.

The children would like to express heartfelt love and thanks to all the administration and staff of the Blue Jay wing at River Bluff Nursing Home, for their wonderful, tender care for our mother for the last eight years of her life.

Funeral Information

Service is at 11:00 a.m. Saturday, February 9, 2013, in Forest Hills Evangelical Free Church, 5183 Pebble Creek Trail, Loves Park, with visitation from 10:00 a.m. until service time; Pastor Mitch Sayler will officiate. Interment in Willwood Burial Park, Rockford. Luncheon will be served at Forest Hills Evangelical Free Church following interment.
Read More