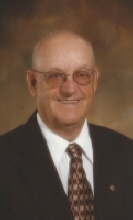 Obituary for Arnold T. Dunbar
BELOVED HUSBAND, FATHER AND GRANDFATHER

Winnebago - Arnold "Arnie" T. Dunbar, 90, of Winnebago, died Saturday, April 26, 2014, in Crimson Point Senior Living, Rockford, after a short illness. Born June 7, 1923, in Gravity, Iowa, the son of Raymond and Hazel (McArthur) Dunbar. Served in the U.S. Navy during WWII. Arnie married Betty Jane Waufle on June 20, 1942, in Rockford. She died on January 6, 1997. He then married Elizabeth (Whitney) Fry on January 3, 1999 in Winter Haven, Fla. Arnie was a fireman at Rockford Fire Station 2 for 28 years, retiring at age 50. Upon his retirement, the Dunbar family moved to Winnebago in 1972, where he served as Winnebago Township Road Commissioner. Arnie was past president of the Winnebago Lions Club. He enjoyed organizing numerous USS Basilan naval reunions. Arnie was well known as a storyteller. He always enjoyed sitting on the front porch watching the birds besides enjoying the "Florida Life" these past 15 years.

Arnie is lovingly survived by his children, Arnold Robert "Bob" (Marilyn) Dunbar of Carmel, Ind., Charles Alan (Judith) Dunbar of Caledonia; Joanne March of McHenry and Mark Dunbar of Rockford; 11 grandchildren; 15 great-grandchildren; his wife, Betty; her five children and their families; and several nieces and nephews. He was also predeceased by his son-in-law, Don March; brothers, Earl and Bert Dunbar; and sister, Ellen Mitts.

Funeral Information

Service is at 3:00 p.m., Friday, May 9, 2014, in Genandt Funeral Home, 602 N. Elida St., Winnebago, with visitation from 1:00 p.m. until service time; the Rev. Keith Kelsey-Powell, pastor of Winnebago United Methodist Church, will officiate. Cremation rites have been accorded. Interment of cremated remains in Winnebago Cemetery.
Read More