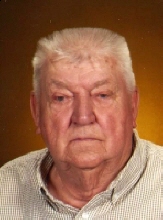 Obituary for Arnold W. "Arnie" Heeren
German Valley - Arnold W. "Arnie" Heeren, 82, of German Valley, died Sunday night, September 27, 2009, in FHN Memorial Hospital, Freeport, after a brief illness. Born June 9, 1927, in Freeport, the son of Garrelt and Martha (Bergeman) Heeren. He graduated from Pleasant Prairie Academy, German Valley, in 1945. Arnie married Ora Mae Black on August 17, 1950, in Forreston. A farmer his entire life, together, they farmed in German Valley. She died May 20, 1980. Arnie married Norma Jean McLain on December 30, 1981, in Silver Creek Reformed Church. He was an active member of Silver Creek Reformed Church and a village trustee of Maryland Township from 1976 to the present.

Arnold is lovingly survived by his wife, Norma Jean Heeren of German Valley; sons, Gerald (Lois) Heeren of Freeport and Arlen (Diane) Heeren of German Valley; stepdaughters, Gay (Rick) Kellett of Surprise, Ariz., Stephanie (Dennis) Erickson of Rockton and Holly Sterkowicz of Freeport; grandchildren, Tracy (Richard) DeRemer, Jennifer (Ken Carey) Flock, Melinda Flock, Matthew (Jen) Heeren, Nikki (Eric) Schoeny, Ashley (Michael) Nebel, Noelle and Sean Kellett, and Stephan Erickson; great-grandchildren, Adrianna Carpenter, Lauren DeRemer, Cadon Wachlin and Cole Kellett; sister, Louise Wieman of Texas; sister-in-law, Judy Lindstrom of Freeport; and dear friend Jeff Good of German Valley.

Funeral Information

Service is at 11:00 a.m., Thursday, October 1, 2009, in Silver Creek Reformed Church, 326 S. Bunker Hill Rd., German Valley, with the Rev. Randall P. Knoll officiating. Burial in Silver Creek Cemetery, in German Valley. Visitation 4:00 p.m. to 7:00 p.m., Wednesday, September 30, 2009 in Silver Creek Reformed Church.
Read More