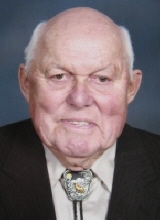 Obituary for Arthur Edward Bridgeland
Winnebago - Arthur Edward Bridgeland, 91, of rural Winnebago passed away peacefully on Friday, August 17, 2012, after spending the day with his family. The son of Alfred Everett and Maida (Piper) Bridgeland, Art was born on April 19, 1921, two days after a severe spring snow storm. His father took his mother to the Alworth Interurban with a team of horses and a bobsled over fence tops and through fields. They stayed with Rockford relatives until it was time to go to the hospital. Art married Mildred Whitney on Aug. 18, 1949 and together they raised a son, three daughters and a foreign exchange daughter. Art attended Fairview country school, Leaf River High School and graduated from Blackburn College. During his grade school days he was known to check his trap lines hiking through the fields and on two occasions had remnants of skunk encounters as he arrived at the school. During high school he sang in the choir, was on the track team, and involved in FFA where he was awarded the State Farmer Degree. At Blackburn, he sang in the glee club, ran track and was on the judging team. As a member of Seward Determination 4-H Club, he was awarded a trip to the National 4-H Congress held in Chicago. Art was then a leader of the club for over forty years and superintendent of the county 4-H dairy show. He touched the lives of countless young people, often submitting nominees for the Rockford Register Star's Young American Award. Art and his father had one of the top herds of registered Holstein cows in the county. They were the first dairy farmers in the county to use artificial breeding. Art was written up in the Hoards Dairyman magazine regarding his dairy feeding program. He also raised and sold registered breeding hogs. Over the years he served on the Winnebago County DHIA Board, Winnebago FS Board, Winnebago Insurance Board, Town and Country Insurance Board, Byron Museum Board and Byron Heritage Farm Board. While Art did not serve in the military, he served his country by raising food on his farm for soldiers and fellow Americans. He was an avid collector of horse drawn farm equipment, tractor seats, seed corn plates, pig snouters, hand held corn planters, cast iron cooking utensils, and International Harvester toy tractors/farm equipment. Art loved to read and had an extensive book collection. He was known for making candy at Christmas to give to his many friends and family. Art was a lifetime member of Middle Creek Presbyterian Church, serving as elder, active in the Mariners group, and sang in the choir for sixty-five years. He loved his Lord and working God's land. Art and Mildred enjoyed traveling God's great earth and visited the United Kingdom, Spain, Portugal, the Scandinavian countries, the Holy Lands, Hawaii, New Zealand, Alaska, cruised the Mediterranean and Panama Canal, as well as toured much of the United States. They wintered in south Texas for eleven years.

Art is survived by Mildred, his wife, of 63 years; son, Alan Everett (Janet) Bridgeland; daughters Cindy (Mike) Clauson, Connie (Steve) Bruss, and Candy (Dave) DeBroux; AFS daughter Delwyn (Paul) Brigham of New Zealand; grandchildren, Aaron Edward (Mackenzie) Bridgeland, Brett (Kari) Bridgeland, Hannah Bridgeland, Dan Clauson, Melanie (Tim Erickson) Clauson, Tobby (Britton) Bruss, Teena (Mike)Taivalmaa, Travis (Carmen) Bruss, Tammy Bruss, Kelli Bartholomew, Robert Bartholomew, and Stacy Bartholomew; great-grandchildren, Aidan Everett Bridgeland, Madeline and Liam Bruss, Keegan, Quaye, Mika, Brayden and Nya Taivalmaa, and McKenzye, Gavin and Mason Bruss; stepgranddaughter, Amber DeBroux; and several nieces and nephews. Predeceased by parents; sister, Barbara Crowley; and stepgrandson, Matthew DeBroux.

Art's family would like to thank the caring staff at Neighbors Nursing Home in Byron for their care and compassion.

Funeral Information

Service at 1:00 p.m., Saturday, August 25, 2012, in Middle Creek Presbyterian Church, 12473 Montague Road, Winnebago, with the Rev. Anita Stuart-Steva officiating. Burial in Middle Creek Cemetery, Winnebago. Visitation 4:00 p.m. to 7:00 p.m., Friday, August 24, 2012, in Genandt Funeral Home, 602 N. Elida St., Winnebago.