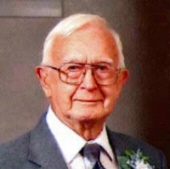 Obituary for Arthur F. Mills
Loving Dad, Grandpa, Great-grandpa and Great-great-grandpa

Pecatonica - Arthur F. Mills, 97, of Pecatonica, formerly of Rockford died Monday morning, December 3, 2007, in his home. Born March 19, 1910, in Rockford, the son of Willard and Daisy (Banks) Mills. He attended Central High School in Rockford. Arthur married Thelma Turkington on February 10, 1933 in Messiah Lutheran Church, in Rockford. He was employed as a parts and service man for a John Deere implement store in Rockford, and then at National Detroit until retirement in 1982. Arthur loved gardening and working with his hands as a craftsman, working by latchhook besides decorating gourds.

Arthur is lovingly survived by his daughter, Shirley Frantz Bawinkel of Pecatonica; son-in-law, Lynn Spielman of Seward; grandchildren, Kim (Terry) Reed of Winnebago, Jill (Jeff) Viel of Pecatonica, Scott (Cindy) Frantz, of Cherry Valley, Tom (Susan) Frantz of Blissfield, Mich., Julie (Joe) Schulz of New Philadelphia, Ohio, Carol (Rocky) Fritz of Amboy and Amy (John) Money of Plainfield, Ind.; great-grandchildren, Adam Reed, Kelly Reed, Collin and Ryan Viel, Michael and Travis Frantz, Kristin, Alaina and Jacob Frantz, Andy Schulz, Nikole (Ryan) Garabrandt, Aaron Fritz, Nathan (Tina) Fritz, Rachel and Chloe Fritz, Mandi and Mitchell Fox and Austin Moore; great-great-granddaughters, Jordyn Wogomon and Livia Garabrandt; sisters, Alice Woodruff of Chandler, Ariz. and Lucille Harvey of Rockford; special nieces, Mondy Carlson of Elgin and Kay Thinnis of Portland, Ore. and several other nieces and nephews.

Arthur was predeceased by his wife, Thelma Mills on January 29, 2003 and daughter, Harriett "Jean" Spielman on September 3, 2006, and sisters, Florence Garrett and Martha Lyford.

Funeral Information

Service is at 11:00 a.m., Friday, December 7, 2007, in Seward Congregational Church, Seward, with visitation from 10:00 a.m. until service time; the Rev. Ronald C. Farb and the Rev. Tom Frantz of Blissfield Baptist Church, Michigan, will co-officiate. Burial in Willwood Burial Park, in Rockford.
Read More