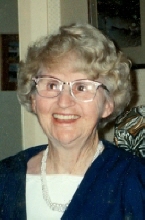 Obituary for Audrey Kathleen Spain
Winnebago - Audrey Kathleen Spain, 93, of Winnebago died Thursday, December 10, 2015 in Alden-Park Strathmoor, Rockford, surrounded by family. Born August 5, 1922 in Wellington, New Zealand, the daughter of William and Emily (Jennings) Jeffery. Attended schools in Wellington, New Zealand. She moved to Lapeer, MI in 1946 and back to New Zealand in 1951 and then to Winnebago in 1955. Audrey married James F. Spain on August 26, 1943 in Wellington, New Zealand; he died October 17, 1990. She was a seamstress in New Zealand. Audrey taught Sunday school, served on a Missionary Committee and Child Evangelism Fellowship. She enjoyed sewing and knitting and dearly loved spending time with her grandchildren.

Audrey is lovingly survived by her sons, Philip (Kimberly) Spain of Spokane, WA and Mark (Laurie) Spain of Winnebago; daughter-in-law, Jean Spain of Atlanta, GA; grandchildren, Michael, Valorie, Melanie, Amy, Aaron, Adam, Nathan, Kylie, and Daniel; ten great-grandchildren; and numerous nephews and nieces. She is also predecease by her parents; daughter, Sara Mae, at birth on November 1, 1946; son, David on October 18, 2014; granddaughter, Amanda Spain; brothers, Ernest, George, Cosmo, Stanley and Reginald Jeffery; and sisters, Eunice Potter, Betty Mears and Grace Griffin.

Funeral Information

Service at 11:00 a.m. Saturday, December 19, 2015, in Genandt Funeral Home 602 N. Elida St., Winnebago, with visitation from 10:00 a.m. until service time; Pastor Scott Nesse of Stone Bridge Church, Rockford, will officiate. Burial in Winnebago Cemetery in Winnebago.
Read More