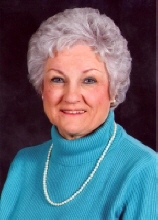 Obituary for Audrey L. Arnould
Loving Wife, Mother and Grandmother

Winnebago - Audrey L. Arnould, 78, of Winnebago, died Monday, September 30, 2013, after a courageous and graceful battle with cancer. Born May 24, 1935, in Granville, Iowa, the daughter of Clemens F. and Gertrude (Byrne) Full. Graduated from St. Joseph Catholic School, Granville in 1953 and attended college at NBT Technical College, Omaha, Nebr. Audrey married Paul J. Arnould on June 25, 1955, in Granville. She worked as a telephone operator for 28 years, retiring from ATT in 1994. Audrey was a former member of Sts. Peter Paul Apostles Church, Rockford and a current member of St. Mary's Catholic Church, Pecatonica. She absolutely loved spending time with her family and friends, especially her grandchildren and sisters, Anita (Roger) Gaswint and Sandy (Ron) Bombard and their families. Audrey enjoyed dining out, and with her outgoing disposition, made dear friends wherever she went. She also was an avid Chicago Bears fan and truly enjoyed music and dancing.

Audrey is lovingly survived by her children, Samuel (Kathi) Arnould of Machesney Park, Susan (Denny) Harker of Lake Summerset, Tom Arnould of Rockford, and Roger (Emily) Arnould of Silver Lake, Wis.; grandchildren, Adam (Lee) and Kelcy Arnould, Lindsey and Michael Huffman, and Chloe and Cassidy Arnould; great-grandson, Landon; two sisters; three brothers; and numerous nieces and nephews. She was predeceased by her parents; husband, Paul, on September 27, 2006; son, Michael, on July 7, 1977; brothers, Kenneth and Lesley Full; and sisters, Joyce, Mary Ellen and Clarice.

Audrey's family wishes to thank the staff of Rockford Memorial Hospital, Medina Nursing Center and Hospice Care of America for their professional and loving care.

Funeral Information

Mass of Christian Burial is at 10:00 a.m., Friday, October 4, 2013, in St. Mary's Catholic Church, 126 W 5th St., Pecatonica, with the Reverend Monsignor Robert Sweeney officiating. Burial in Calvary Catholic Cemetery, Winnebago. Visitation 5:00 p.m. to 7:00 p.m., Thursday, October 3, 2013 in Genandt Funeral Home, 602 N. Elida St., Winnebago, with the Rosary recited at 7:00 p.m.
Read More