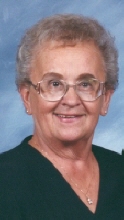 Obituary for Audrey Mae Waufle
Loving Mom, Grandma and Great-grandma

Winnebago - Audrey Mae Waufle, 84, of Winnebago, died Monday, July 7, 2014, in her daughter's, Jayme, home. Born July 9, 1929, in rural Winnebago, the daughter of Henry and Beulah (Stanley) Hassel. Graduated in 1947 from Winnebago High School and then Rockford Business College. Audrey married Edward L. Waufle on March 6, 1954, in Redeemer Lutheran Church, Rockford. She was a secretary for many companies, retiring from Rockford Cable Vision. Audrey was a member of St. John Lutheran Church and was affiliated with the formation of Risen Savior Lutheran Church, Byron. She also was active with Monday Niters, Mary Martha Circle, and the Potluck Group of Rockford. She enjoyed knitting, puzzles including crosswords, playing cards, and was an avid reader.

Audrey is lovingly survived by her daughters, Jody Fay and Jayme Turman; grandchildren, Maisie (Eduardo) Sanchez, Tyler and Troy (Brynn) Turman, Tori (DeCaro) Henson and Tessa Turman; great-grandchildren, Elizabeth and David Sanchez and Cordae and Camori Henson; foreign exchange student daughter, Dr. Karin (Dr. Peter Karlsson) Lindelow and children, Eva and Fredrik of Malmo, Sweden; brother-in-law, Donald (Mary Frances) Sartorius; sister-in-law, Edna Hassel; and many nieces and nephews. She was predeceased by her parents; husband, Ed on June 3, 2010; brother, Donald Hassel; and sister, Margaret Sartorius.

Funeral Information

Service is at 5:00 p.m., Sunday, July 13, 2014 in St. John Lutheran Church, 1301 N. Jackson St., Pecatonica with visitation from 3:00 p.m. until service time; the Rev. Robert H. Rub Jr., retired pastor formerly at Redeemer Lutheran Church, Rockford/Risen Savior Lutheran Church, Byron. Cremation rites have been accorded. Burial of cremated remains in Winnebago Cemetery.
Read More