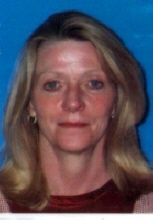 Obituary for Becky (Fender) Kelly
Loving Mom, Daughter, Sister, Aunt and Friend

Hartland, Wis. - Becky (Fender) Kelly, 56, of Hartland, Wis., formerly of Winnebago, passed away suddenly on Wednesday, November 19, 2008, in Oconomowoc Memorial Hospital, Wis. Born December 19, 1951, in Rockford, the daughter of Arlen "Dale" and Merle (Moate) Fender. She graduated from Winnebago High School in 1969 and attended Western Illinois University, Macomb. Becky then lived in Tucson, Ariz. for seventeen years, where she enjoyed hiking, camping and skiing. She was a physical therapist technician for many years, and was most recently employed by Wheaton Franciscan Medical Group. Becky loved to read and was a talented artist. In addition, she loved animals and volunteered at the local animal shelter. Becky will always be remembered as a loving, devoted mom; she will be greatly missed by all whose lives she touched. We love you, Becky, and will miss you forever!

Becky is lovingly survived by her children, Tyler and Erin Kelly, both of Hartland; parents, Dale and Merle Fender; sister Debbie Cassioppi; and brother, Larry (Donna) Fender, all of Winnebago; several nieces and nephews; and the father of her children, David Kelly of Tucson.

She was predeceased by her grandparents.

Funeral Information

Service is at 2:00 p.m., Saturday, November 22, 2008, in Genandt Funeral Home, 602 N. Elida St., Winnebago, with visitation from 12:00 p.m. until service time; the Rev. Steve P. Shullanberger, pastor of First Presbyterian Church, in Winnebago, will officiate. Burial in Winnebago Cemetery, in Winnebago.