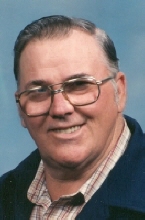 Obituary for Bernard Lee Banister
Rockford - Bernard Lee Banister, 78, of Rockford, formerly of Canton, died Thursday, June 25, 2015, in his home, surrounded by family. Born November 29, 1936, in Greenview, the son of Alva and Artie (Conn) Banister. He served in the U.S. Army from 1958 to 1961. Bernard married June Snyder on July 15, 1966, in Peoria. He was an auctioneer since 1975, never retiring, serving the communities of Freeport, Sterling, and then Pekin. Bernard was an original "American Picker".

Bernard is lovingly survived by his children, Nick (Teresa) Banister of Vian, Okla., Chris (Patty) Banister of Sterling, Dan E. Banister of Loves Park and Lee Ann (Efrem) Cedillo of Racine, Wis.; stepchildren, Phil (Barb) Hodges of South Beloit and Nancy (Dave) Lusz of Rockford; 13 grandchildren; nine great-grandchildren; brothers, Ronald Banister of Rockford and Gale (Alice) Banister of Athens; and numerous nieces and nephews. He was predeceased by his parents, wife, June on February 25, 2013; grandchildren, Marci and Timothy; great-granddaughter, Alexis; brothers, Harold, Loren and George; sisters, Helen and Nancy; nephews, Ronald Jr. and Ricky Wayne; niece, Barbara Ann; and half-brothers and sisters, Fred, Raney, Andy, Frank, Myrtle and Annie.

Funeral Information

Service is at 11:00 a.m., Friday, July 3, 2015, in Silver Creek Reformed Church, 326 S. Bunker Hill Road, German Valley, with visitation from 10:00 a.m. to service time; Pastor Jonathon Banister of Mosaic Church, Rockford, and Rev. Allen Schut of Silver Creek Reformed Church, will officiate. Burial in Silver Creek Cemetery, German Valley.