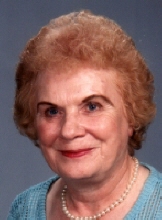 Obituary for Bernice A. Pumilia
Granny Bee, BB

Rockford - Bernice A. Pumilia, 86, of Rockford, went home to be with the Lord on Thursday morning, March 30, 2006, in Alden Alma Nelson Subacute, in Rockford, after a long illness. Born February 16, 1920, in Hartford, S. Dak., the daughter of Will and Jane (Schleifer) Dieken. They moved to the German Valley area when she was six weeks of age. Graduated from Pleasant Prairie Academy in German Valley, in 1938. Bernice married Dale Kiser on August 3, 1940. Dale passed away January 26, 1964. Bernice married Anthony Pumilia on June 24, 1967. Tony passed away on April 29, 1982. Bernice worked many years at Amerock and later at Beef-A-Roo, both in Rockford. She was an active member and served as organist for many years at Berean Baptist Church, in Rockford. Bernice loved to bake for her family; had a passion for music, playing the organ and piano whenever possible; and playing Scrabble. Many thanks is given to Dr. Rose Stocker and staff at 5-Points Medical, caregivers at SwedishAmerican Hospital, Heartland Hospice and Alden Alma Nelson Subacute's Lu, Heather and 300 wing.

Bernice is lovingly survived by her daughter, Sylvia (Wendell) Whitehead of Winnebago, son, Steve (Marty) Kiser of Princeton, daughter-in-law, Beth Kiser of San Jose, Calif., grandchildren, Phil (Rhonda) Whitehead, Stefany (Brian) Ulrich, Andrea Whitehead, Rachel Jorstad, Sarah (Kevin) Scruggs, and Elizabeth, Kristal and Kandace Kiser, great-grandchildren, Spencer, Hunter, Isaiah, Ethan, Olivia, Trevor, Elijah, Zander and Jonathan, and numerous cousins, nieces and nephews.

Bernice was also predeceased by her son, Dave Kiser, sisters, Margaret Cordes and Pearl Wessels and brothers, John, James and Raymond.

Funeral Information

Service is at 2:00 p.m., Wednesday, April 5, 2006, in Genandt Funeral Home, 602 N. Elida St., Winnebago, with the Rev. Melvin Swanson, pastor of Berean Baptist Church, officiating. Burial in Silver Creek Cemetery in German Valley. Visitation 5:00 p.m. to 7:00 p.m., Tuesday, April 4, 2006 in the funeral home.