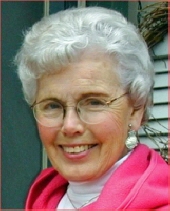 Obituary for Bernice L. Pollard Makulec
Homemaker, Wife, Mom & Grandma

Rockford - Bernice L. Pollard Makulec, 84, of Rockford, died Thursday morning, August 7, 2008, in Wesley Willows, in Rockford. Born May 29, 1924, in Winnebago, the daughter of Joseph and Irene (Brauer) Pollard. She lived all of her life in the Rockford area. Graduated from West High School in 1942. Bernice married Edward Makulec on May 26, 1946. An active member of First Presbyterian Church, in Rockford, for over 50 years, she served on the Board of Deaconesses and the Funeral Guild and served in many other ways. Her motto was "We are here on earth to do good for others." Bernice was a member of the Centerville Community Club and a 4-H leader for many years. A volunteer at SwedishAmerican Hospital for 14 years, she also knitted over 300 pairs of booties and stocking caps for the babies in their nursery. Bernice enjoyed spending time with her family, working in her garden, and she loved to cook and bake. She was a walker and loved to be outdoors.

Bernice is lovingly survived by her children, Vicki (Harry) Tallacksen, Jeffrey (Jude) Makulec and Gregory (Mary) Makulec, all of Rockford; daughter-in-law, Judi Makulec of Winnebago; grandchildren, David (Adrienne) Tallacksen of Jersey City, N.J., Daniel (Amie), Doug (Aurora) and Andrea Tallacksen, Jennifer Makulec of Kalispell, Mont. and Jason Makulec, Amanda, Ross, and Troy Makulec, and Shawn and Christopher Makulec; brother, Ray Pollard of Rockford; and many nieces and nephews.

Bernice was predeceased by her parents; husband, Edward Makulec on July 16, 1992; son, Steven Makulec; sister, Vera Traum; and brother, Harry Pollard.

Funeral Information

Memorial Service is at 11:00 a.m., Saturday, August 23, 2008, in First Presbyterian Church, 406 N. Main Street, Rockford, with visitation from 10:00 a.m. to service time; the Rev. David Barnes, retired, will officiate. Private interment in Willwood Burial Park, in Rockford.