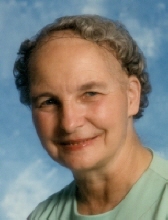 Obituary for Bette J. Larson
Winnebago - Bette J. Larson, 83, of rural Winnebago, died Monday, March 21, 2016, in Neighbors Rehabilitation, Byron, after a ten year illness. Born October 8, 1932, in Mount Carroll, the daughter of Lee and Edna (Barr) Gifford. Graduated from Mount Carroll High School and attended college in Tennessee. Bette married John H. Larson on May 23, 1970, in Harvard. She was a file clerk at several offices and retired from Blue Cross Insurance in 1974. Bette enjoyed playing the piano, going to concerts, bowling, and working around the yard and farm.

Bette is lovingly survived by her husband, John; sisters-in-law, Shirley Gifford of Freeport and Mary (James) Biergans of Grand Ledge, MI; and several nieces, nephews and cousins. She was predeceased by her parents and twin brother, Richard Gifford.

Funeral Information

Service at 2:00 p.m. Thursday, March 24, 2016, in Genandt Funeral Home, 602 N. Elida St., Winnebago, with visitation from 1:00 p.m. until service time; Elder Jeff White, pastor of Church of Christ, Freeport, will officiate. Burial in St. Thomas Catholic Cemetery, Seward.
Read More