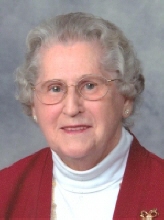 Obituary for Betty E. Finley
Beloved Mom, Gramma and Friend

Winnebago - Betty E. Finley, 88, of Winnebago, was called home to her Lord and Savior on Friday, June 8, 2012, from her home. Born December 16, 1923, in Byron Township, the daughter of Charles Martin and Violet L. (Moore) Leonard. Graduated from Winnebago High School in 1941. Betty married Robert L. Finley in First Presbyterian Church, Winnebago, on January 21, 1949. Beginning at the age of four attending Sunday school, she was an active member of First Presbyterian Church, and its Mary Martha and Dorcas Circles. Betty received an honorary life membership award from the Presbyterian Women in 1999. In her youth, she was in 4-H, and upon high school graduation was a beautician at Ruby's Beauty Shop, until her marriage to Bob. Together they farmed, retiring in 1969. Betty loved playing 500 cards with the Westfield gang, and enjoyed baking, reading, ceramics, crocheting, sewing, and putting together puzzles. She dearly loved caring for her family, especially her grandchildren, along with the trips to the lake to fish.

Betty is lovingly survived by her sons, Howard (Lori) Finley of Pecatonica and Roger (Tracy) Finley of Winnebago; grandchildren; Kelly and Kerry Finley of Pecatonica and Cameron (Brandi Hendricks), Jarrett and Meagan Finley of Winnebago; sister-in-law, best friend and buddy, Shirley Leonard of Winnebago; and several nieces and nephews. Predeceased by her parents; husband, Bob, on May 3, 2001; infant granddaughter, Kyle Marie Finley; brother, Robert Leonard; and sister, Ethel Adams.

Betty's family wishes to thank VNA Hospice and caretakers, Lily and Cassie, for their loving care and support.

Funeral Information

Service at 11:00 a.m. Wednesday, June 13, 2012, in Genandt Funeral Home, 602 N. Elida St., Winnebago, with the Rev. Steve Shullanberger, pastor of First Presbyterian Church, officiating. Burial in Willwood Burial Park, Rockford. Visitation 6:00 p.m. to 8:00 p.m., Tuesday, June 12, 2012, in the funeral home.