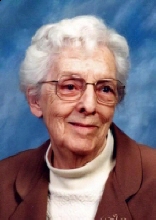 Obituary for Betty E. Wieman
Freeport - Mrs. Betty E. Wieman, 98, of Freeport, died Wednesday morning, September 30, 2009, in Parkview Home, Freeport. Born March 9, 1911, the daughter of William H. and Florence (Miller) Eder. Graduated from Rockford High School, attended the University of Minnesota and graduated from Rockford College. Betty married Steinus Wieman on December 31, 1948, in Freeport. She taught school in Rockford, Freeport, Milledgeville and German Valley. After retiring, Mrs. Wieman did volunteer work in the literacy program and at the Stephenson County Senior Center. She was a member of Silver Creek Reformed Church.

Mrs. Wieman is lovingly survived by her daughter, Christina Barthel of German Valley; grandsons, Thomas Barthel of Zurich, Switzerland, John (Penny) Barthel of Albany, Calif., Paul (Janet) Barthel of Waukesha, Wis., and Frederick (Tara) Barthel of Billings, Mont.; seven great-grandchildren; sister, Barbara Laible of Yuba City, Calif.; brother and sisters-in-law, Eugene and Louise Wieman of Texas and Cassie Ross of Egan; and nieces and nephews.

She was predeceased by her husband, Steinus Wieman in 1985; son-in-law, Dr. Calvin W. Barthel in 1990; grandson, Michael Barthel in 2004; and three brothers.

Funeral Information

Memorial service is at 11:00 a.m., Monday, October 5, 2009, in Silver Creek Reformed Church, 326 S. Bunker Hill Rd., German Valley, with the Rev. Randall P. Knoll officiating. Private burial in Silver Creek Cemetery, in German Valley. No visitation.
Read More