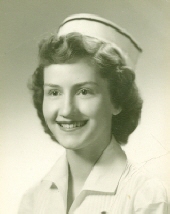 Obituary for Betty J. Jacobs
Rockford - Betty J. Jacobs, 82, of Rockford, died Sunday, August 31, 2014, in River Bluff Nursing Home, Rockford, after a lengthy illness. Born on May 24, 1932, in Woodstock, the daughter of Loren and Cora (Siedschlag) Magee. Graduated from Leaf River High School in1950 and then from Rockford Memorial Hospital School of Nursing in 1953. Betty married Enos A. Jacobs on July 25, 1953 in Rockford. She nursed for 55 years, 25 of them at the Byron Medical Center. Betty's passion was her nursing and loving being grandma and great-grandma and she will be greatly missed by her family.

Betty is lovingly survived by her children, Deborah (Michael) Fox of Greer, S.C., James Thomas (Patrice) Jacobs of Sellersburg, Ind., John Michael (Rosalie) Jacobs of Rockford, Jay Jacobs of Lanark, Jerry (Cindy) Jacobs of German Valley, and Joe Jacobs of Lanark; ten grandchildren and four great-grandchildren. She was predeceased by her parents; step-mother, Hattie (Taylor) Magee; husband, Enos, on March 16, 1986.

Funeral Information

Service is at 12:00 p.m., Saturday, September 6, 2014, in Grace Valley Christian Reformed Church 8210 E. Edwardsville Rd., German Valley, with visitation from 10:00 a.m. until service time; the Rev. Adam Stout will officiate. Cremation rites have been accorded. Burial of cremated remains in Adeline Cemetery.