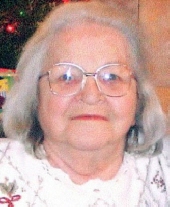 Obituary for Betty L. Ashton
Seward - Betty L. Ashton, 84, of Seward, died Saturday, May 29, 2010, in Rockford Memorial Hospital. Born March 15, 1926, in Baker City, Oregon, the daughter of Peter and Addie (Peck) Daris. Betty married Dwight C. Ashton, Sr. on June 24, 1950, in Rockford. She was a quality control inspector of Sundstrand Aviation Corp. for 30 years, retiring in 1983. Betty was a member of Seward Congregational Church, and UAW Local 592. She loved telling stories of her childhood to her great-grandchildren.

Betty is lovingly survived by her daughter, Marjorie (Bryce) Avery of Seward; grandchildren, Bettie L. Avery, and Raymon C. (Laura L.) Avery; great-grandchildren, Leorena A. A., Marnette M. K., and Matthew L. Haynie and Dereck C. and Sarah E. Avery; stepson, Gordon E. (Gloria) Ashton; stepgranddaughters, Kellie (Duane) Cullor and Korena (Terry) Lentz; four stepgreat-grandchildren; sister, Anna Howe of Pasco, Wash.; and several nieces and nephews. She was predeceased by her husband in April, 1985; stepson, Dwight C. Ashton, Jr.; three brothers and four sisters.

Funeral Information

Service is at 2:00 p.m., Tuesday, June 1, 2010, in Genandt Funeral Home, 602 N. Elida St., Winnebago, with the Rev. Ronald C. Farb, pastor of Seward Congregational Church, officiating. Burial in Willwood Burial Park, Rockford. Visitation 5:00 p.m. to 7:00 p.m., Monday, May 31, 2010, in the funeral home.