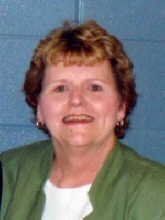 Obituary for Brenda K. Grennan
Loving Wife, Mom and Dee

Rockford - Brenda K. Grennan, 55, of Rockford, died Wednesday, October 22, 2008, in her home, surrounded by her loving family, after a courageous battle with cancer. Born June 14, 1953, in Rockford, the daughter of Howard and Edna (Crabtree) Milsaps. She graduated from West High School, Rockford, in 1971. Brenda married Danny Lee on July 21, 1973, in Jefferson Heights Baptist Church; later they divorced. She married Keith Grennan on September 12, 1987, in St. Mary Catholic Church, Byron. Brenda previously worked for UDL Laboratories, Winnebago Special Education, and most recently at Landstar Inc. She was an active member of New Life Bible Church. Brenda enjoyed quilting, sewing, canning, traveling, and was an avid fan of the Winnebago dance and bowling teams. She loved being "Dee" to her grandsons.

Brenda is lovingly survived by her husband, Keith Grennan; daughters, Carolyn Holley, Kimberly Kirkland, Teresa Lee, and Alison and Erin Grennan; grandsons, Luke, Levi, Lane and Lott Holley; brothers, Jim (Lisa), Bob, Mike (Karen), Rick and Jeff (Judy) Milsaps; and several nieces and nephews.

She was predeceased by her parents.

Funeral Information

Service is at 10:00 a.m., Tuesday, October 28, 2008, in Genandt Funeral Home, 602 N. Elida St., Winnebago, with Pastor Tim Spickler, pastor of New Life Bible Church, in Winnebago, officiating. Burial in Willwood Burial Park, in Rockford. Visitation 5:00 p.m. to 8:00 p.m., Monday, October 27, 2008, in the funeral home.