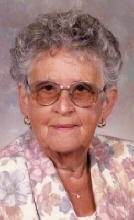 Obituary for Camilla G. Lightfoot
Loving Mother, Grandmother, Great-grandmother and Aunt

Winnebago - Camilla G. Lightfoot, 91, of Winnebago, died Sunday, December 14, 2014, in Wesley Willows, Rockford. Born February 1, 1923, in Rockford, the daughter of Carl and Margaret (Foote) Glenny. Graduated from West High School, Rockford, in 1941. Camilla married Duane Russell Lightfoot on October 27, 1943, in Rockford. She was a bookkeeper for more than 22 years at Winnebago Farm Services, Rockford, where she enjoyed interacting with all their clients. Camilla was an active member of Burritt Community Church and its Women's Society. She was a wonderful wife and homemaker, and her favorite pastimes were fishing, gardening, cooking and playing cards. Her late husband, Duane, built a lake on the farm in 1969, where Camilla spent many happy hours catching bluegills and catfish and hosting picnics with him. She had a delightful personality and sense of humor that captured the hearts of all who knew her.

Camilla is lovingly survived by her daughters, Linda K. (Greta McKay) Lightfoot of Seattle, Wash. and Karen (Jack) Janssen of Winnebago; grandchildren, Lucas (Nacol Favalora) Kraut of Wilmington, Del., Kimberly (Chris) Kraut Mengel of Charlotte, N.C. and Kim (David) Janssen Mendlik of Kenosha, Wis.; great-grandchildren, Ainsley, Kaitlyn and Logan; sister-in-law, Geraldine Glenny of Winnebago; nephew, Dr. W. Edward (Jacqueline) Glenny; and niece, Margaret (Christopher) Metras. She was predeceased by her parents; husband, Duane, on March 11, 1994; brother, William F. Glenny; and nephew, Rev. Dr. Richard Glenny.

Funeral Information

Service at 11:00 a.m. Saturday, December 20, 2014, in Genandt Funeral Home, 602 N. Elida St., Winnebago, with the Rev. Larry Moody, pastor of Burritt Community Church in Rockford, officiating. Burial in Willwood Burial Park in Rockford. Visitation 4:00 p.m. to 7:00 p.m. Friday, December 19, 2014, in the funeral home.