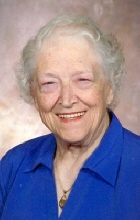 Obituary for Carol M. Pollard
Rockford - Carol M. Pollard, 91, of Rockford, died peacefully in Serenity Hospice and Home, Oregon, on Saturday, July 9, 2016. Born August 13, 1924, in Rockford, the daughter of Elvin and Eva (Lightfoot) Hartley. She graduated from Rockford West High School in 1942 and then beauty school, the following year. Carol married Ray J. Pollard on January 3, 1947, in Burritt Community Church, Rockford. Together, they farmed for over 40 years. She was an active member of Middle Creek Presbyterian Church for 64 years. Carol was a Centerville Knot Ketchers 4-H Club leader for 24 years and an active member of Centerville Community Club for 67 years. She also served on the Winnebago County Farm Bureau Women's Committee for many years. Carol enjoyed reading, sewing, cooking, baking and collecting angels.

Carol is lovingly survived by her sons, Wayne (Myra) and Warren (Gail) Pollard; daughters, Helen (Jim) Pyfer, Hazel (Greg) Johnson and Heidi Pollard; eleven grandchildren; seven great-grandchildren; and numerous nieces and nephews. She was predeceased by her parents; husband, Ray, on May 17, 2014; son-in-law (Heidi's husband), George Vikatos; and sisters, Vivian Randerson and Elizabeth Bolthouse.

Funeral Information

Service is at 11 a.m. Saturday, July 30, 2016, in Middle Creek Presbyterian Church, 12473 Montague Road, Winnebago, with visitation from 9 a.m. until service time; the Rev. Dr. Anita Stuart-Steva, will officiate. Cremation rites have been accorded.
Read More