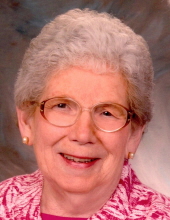 Obituary for Carol Virginia Meyers
Carol Virginia Meyers, 96, of Winnebago, died Tuesday, February 8, 2022, at Prairie View Assisted Living Community in Winnebago. She was born December 11, 1925 in Le Roy, IL, the daughter of Dr. Earl Thompson and Nellie Jane (Halsey) Gambrel. She graduated from Byron High School in 1944 and then attended Michigan State University, in East Lansing, MI and graduated with a bachelor degree in teaching from Northern Illinois University in DeKalb. Carol married Stanley "Stan" Lewis Meyers, on July 22, 1950 at the First Presbyterian Church of Winnebago.

Carol taught home economics, English and was a substitute teacher at Stockton High School, Pecatonica High School, Winnebago High School and Jean McNair Middle School in Winnebago. While teaching in Winnebago she was an active volunteer with the academic bowl, co-established the annual Christmas Tea and was an avid sports fan.

Carol was an active volunteer, joiner and leader of many organizations across northern Illinois. As a member of the First Presbyterian Church of Winnebago she served as elder, deacon and on many committees. She was a member and worthy matron of the Eastern Star in Winnebago, Scottish Rite Women's Club, Winnebago Monday Nighters and the Rockford Memorial Auxiliary.

Carol was an expert cook, baker, and canner. She loved teaching her grandchildren the fine art of baking cookies. Carol kept Stan and their pantry well-stocked with various pickles, tomato harvests, green beans, and beets along with their freezer filled with a vast collection of cookies and other desserts. She was a good neighbor and friend, often providing full meals including those cookies to families experiencing a recent loss or accident. Carol loved to supply food and her time for friend and family celebrations.

Carol loved her children but her eyes truly sparkled when she had the opportunity to spend time with her grandchildren and great-grandchildren. She planned something for almost every visit of the grandkids: crafts, cooking projects, museum or park visits, and only wished she could do the same for the great-grands.

Besides being a passionate Winnebago sports fan, Carol liked any and all sports! She could watch any football, baseball or basketball game on television even if she was quite sure who was playing. She even watched golf but drew the line on hockey and soccer. She became a Chicago White Sox fan late in life but loved the teams her boys loved all the time.

Finally, Carol was a devoted reader of the local obituaries, the more details the better. And they didn't have to be about someone she even knew. She would be impressed by adventurous and impressive life accomplishments. Thus we have provided many details about Carol for those obituary readers just like her.

Carol's family would like to thank the staff of St. Croix Hospice for their care and support of Carol and her family during the last 15 months. We would also like to give a very special thank you to the entire staff at Prairie View Assisted Living Community for the loving care of Carol over the past 6 years! Their love and support made them Carol's friends and extended family! Thank you so much!

Carol is survived by her sons, Scott (Lana) Meyers of Rockford, Steve (Judy) Meyers of Cherry Valley; grandchildren, Brittany (Tim) Freiberg, Tanner (Sonia) Meyers; great-grandsons, Nash Freiberg, Mason Meyers; great-granddaughter, Kensington "Kensie" Freiberg; brother, Dr. Loren "Gene" (Anna Belle) Gambrel; sister, Barbara (Ted) Seaman; sisters-in-laws, Jackie Gambrel, Judy Gambrel, Leola Meyers; several nephews and nieces.

Carol is predeceased by her husband of 65 years, Stan Meyers; brothers, Dr. Paul Gambrel, Maurice Gambrel, Earl Gambrel Jr.; sisters, Grace Snyder, Marjorie Miller.

A memorial celebration of Carol's life will be held at a later date. In lieu of flowers memorials will be established for the First Presbyterian Church of Winnebago and the Rock Valley College Foundation. Cremation rites accorded with interment at Winnebago Cemetery.

Arrangements by Genandt Funeral Home, 602 N. Elida St., Winnebago. For an online obituary and tributes go to www.genandtfuneralhome.com.
Read More
Cemetery Details
Location
Winnebago Cemetery
Westfield Rd.
Winnebago, IL 61088
Memorial Contribution
First Presbyterian Church of Winnebago
Rock Valley College Foundation