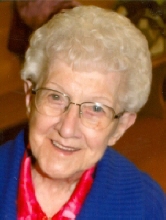 Obituary for Cassie Ross
German Valley - Cassie Ross, 96, of German Valley, passed away Wednesday, December 2, 2015, in her home, surrounded by her loving family. She was born July 18, 1919, in German Valley, the daughter of Christian and Maidie (Ammerman) Wieman. Cassie married Franklin Ross on January 3, 1946, in German Valley.

She attended German Valley area schools and Pleasant Prairie Academy. Cassie was employed by Burgess in Freeport 1942-1943 and by Micro Switch in 1944-1945. She and "Tyke" farmed in German Valley all their married lives and she lived on the family farm until her death. Tyke passed away in November, 1968.

Cassie was a lifelong member of the Grace Valley Christian Reformed Church and was organist there for 55 years. She was a member of the Sunshine Singers group that played for nursing homes monthly for many years. Cassie was active in many senior citizen groups, playing cards and games with many friends. She bowled in a league in Freeport for many years and the past 25 years in Shannon, having bowled a 200 game in her late 80s. Cassie attended all sporting events of her sons, events of her daughter, and then of her grandchildren. She loved music and attended many concerts with her friends. Cassie also enjoyed extensive traveling with her friends, having been in nearly every state, including Alaska and Hawaii.

Cassie is survived by four sons, Gary (LeAnn), Bill (Bonita), and Ken (Cathy) Ross of German Valley, and Mike (Elise) Ross of California; one daughter, Cathy (Justin) Krusey of German Valley; 13 grandchildren, Audra (Jeff) Dulinsky, Ben Ross, Natalie (Nate) Haas, Mike (Deb) Ross, Alison (Ryan) Glendenning, Jared (Ashley) Krusey, Raquel (Jon) Quenzer, Renita Krusey, Ingrid Ross, Anastasia (Jamie) Sierota, Zebulon, Octavia and Lavinia Ross; 15 great-grandchildren, Braedn Ross, Alaina and Hunter Haas, Grace, Abigail, Christian and Emersyn Dulinsky, Mark and Luke Ross, Parker and Adley Glendenning, Easton and Baylor Krusey, and Aliyah and Jaedah Quenzer; and brother, Gene Wieman of Texas. She was predeceased by her husband, parents, three brothers and one sister.

Funeral Information

Service is at 11:00 a.m., Monday, December 7, 2015, in Grace Valley Christian Reformed Church, German Valley, with the Rev. Jake Ritzema officiating. Burial in Christian Reformed Cemetery, German Valley. Visitation 3:00 p.m. to 6:00 p.m., Sunday, December 6, 2015 in the church.