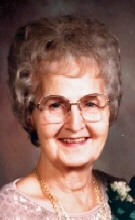 Obituary for Cecelia P. Hunziker
Freeport - Cecelia P. Hunziker, 92, of Freeport, died Wednesday night, January 21, 2009, in Liberty Village of Freeport, after a short illness. Born August 1, 1916, in Peoria, the daughter of Emil and Cecelia (Reber) Schupbach. Cecelia married Fritz Hunziker, Jr., on December 26, 1933, in Pekin. Together, they farmed in Henry and then farmed in the German Valley-Freeport area since 1943, retiring in 1983. Cecelia belonged to the Freeport Moose Lodge. She enjoyed working outside, dancing with Fritz, and proud of her Swiss heritage, attending the annual Swiss picnics in New Glarus, Wis.

Cecelia's passion was her family and is lovingly survived by her children, Richard (Joan) Hunziker of Freeport, Junior (Judy) Hunziker of Ridott, Donald (Joan) Hunziker of Freeport, and Nancy (Leighton) Duitsman of Lawton, Okla; fourteen grandchildren; thirty-four great-grandchildren; six great-great-grandchildren; and numerous nieces and nephews.

She was predeceased by her parents; husband, Fritz Hunziker, Jr. on September 25, 1989; three brothers; and three sisters.

Funeral Information

Service is at 11:00 a.m., Tuesday, January 27, 2009, in Genandt Funeral Home, 145 Church St., German Valley, with the Rev. Dennis Carr, interim pastor of Grace Lutheran Church in Bensenville, officiating. Burial in Chapel Hill Memorial Gardens, in Freeport. Visitation 6:00 p.m. to 8:00 p.m., Monday, January 26, 2009, in the funeral home.
Read More