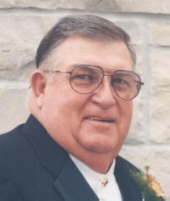 Obituary for Charles D. "Chuck" Dow
Winnebago - Charles D. "Chuck" Dow, 74, of Winnebago, died Wednesday afternoon, April 7, 2010, in Kindred Hospital, Sycamore, surrounded by his loving family, after a short illness. Born September 9, 1935, in Rockford, the son of Daniel and Ebba (LeVine) Dow. Graduated from West High School, Rockford, in 1953; received his Associates degree at University of Wisconsin, Madison; and served in the U.S Army and Reserves. Chuck married Donna J. Nehring on September 9, 1961, in Redeemer Lutheran Church, Rockford. He was a farmer, truck driver for Chuck Brauer Trucking and Dean's Foods, and later was owner of Chuck's Lawn Maintenance. Chuck was a member of Court Street Methodist Church for over 60 years, Star in the East Lodge No. 166, Valley of Freeport Scottish Rite Bodies, and Tebala Shrine Center, charter member of Tebala Air Squadron, board member and past president of Winnebago School District, member and past president of Winnebago Lions Club; participated in the Rotary International Business Exchange program, spending two months in Denmark, in 1968; was active in 4-H and supported the Winnebago County Fair; and was a private pilot for over 30 years and member of International Flying Farmers. He enjoyed social times with dear "potluck" friends for nearly 50 years, breakfasting with his coffee shop buddies and watching all the activities of his grandchildren. Chuck was so proud of his family and his "Charlie's Angels" gave him much to be proud of.

Chuck is lovingly survived by his wife, Donna of Winnebago; daughters, Darla (Guy) Cunningham, Teresa (Mark) Hill and Cindy (Roger) Anderson, all of Winnebago, and Crystal (Dave) Zimmerman of Pecatonica; grandchildren, Charlie (Kari Boxall) and Amanda Cunningham, Danielle and Cohen Hill, Carter and Ella Anderson, and Lucas and Anna Zimmerman; brother-in-law Gary (Pat) Nehring of Winnebago; several cousins; and many, many friends. He was predeceased by his parents; and infant sister, Anna Mae Dow.

Funeral Information

Service is at 10:00 a.m., Monday, April 12, 2010, in Genandt Funeral Home, 602 N. Elida St., Winnebago, with the Rev. Larry A. Moody, pastor of Burritt Community Church, officiating. Burial in North Burritt Cemetery, Winnebago. Visitation 3:00 p.m. to 7:00 p.m., Sunday, April 11, 2010, with Masonic Rites at 7:00 p.m., in the funeral home.
Read More