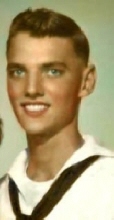 Obituary for Charles LeRoy Hildebrand
Beloved Brother, Dad, Grandpa, & Friend

Winnebago - Charles LeRoy "Chuck" Hildebrand, 81, of Winnebago, formerly of Monroe Center, died Tuesday, December 25, 2012, in Prairie View Assisted Living of Winnebago. Born February 20, 1931, in rural Monroe Center, the son of Kenneth and Florence (Reeder) Hildebrand. He entered the U.S. Navy on April 12, 1948, stationed on the U.S.S. Albany, and was honorably discharged on April 8, 1952. Charles married Betty M. Bright on August 19, 1951, in Janesville, Wis. He was a bolt maker at Rockford Products for 37 years, retiring in 1992. Chuck dearly loved farming with his father and relatives. He volunteered as a firefighter for the Monroe Center Fire Department for 20 years. Chuck was an active member of the Monroe Center Community Church. He was a mason of the Meridian Sun 505 Lodge, Holcomb, for many years. Chuck enjoyed woodworking, gardening, watching the Chicago Cubs, playing cards, playing pool, and shaking dice. He dearly loved spending time with his family and traveling, including day trips with Betty, his wife of 57 years.

Chuck is lovingly survived by his daughter, Diane (Gene) Archer of Winnebago; son, Denis (Pat) Hildebrand of Stillman Valley; grandchildren, Evan (Kristin), Collin (Tina), and Kristin (Tony) Archer, and Trisha, Tiffany, and Brian (Sabrina) Hildebrand; 11 great-grandchildren; brother, Doug Hildebrand of Rockford; sisters, Avis Hall and Pat Kruger, both of Stillman Valley; and numerous nieces and nephews. Predeceased by his parents; wife, Betty on May 1, 2008; son, Keith Hildebrand; grandson, Bradley Hildebrand; sisters, Eleanor Vanstone, Sharon Barber and Linda Barber; and brother, Irvin Hildebrand.

Special thanks to Chuck's friends at the Rochelle Senior Hub and Prairie View Assisted Living.

Funeral Information

Service at 1:00 p.m. Saturday, December 29, 2012, in First Presbyterian Church, 208 W. Winnebago St., Winnebago, with visitation from 11:00 a.m. until service time; the Rev. Steve Shullanberger, will officiate. Burial in Monroe Center Cemetery. Masonic Rites will be performed at the gravesite.
Read More