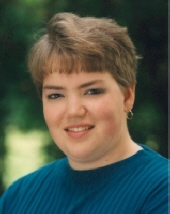 Obituary for Cheri M. McCray
Beloved Daughter, Sister and Aunt

Winnebago - Cheri M. McCray, 37, of Winnebago, died Thursday, September 13, 2012, in her home, surrounded by her loving family. Born January 4, 1975, in Rockford, the daughter of Richard and Janet (Hamer) McCray. Graduated from Winnebago High School in 1993 and was an office aide and active in the band. She then graduated from Rock Valley College in 1996 and Rockford College in 2000, with a Bachelor of Science degree in nursing. While attending college, Cheri worked at MYCO, Winnebago County Title, Rockford Memorial Hospital in the library, and a CNA in its NICU, and upon graduation on B4. She was a member of Burritt Community church, its choir and MYF, Burritt Winners 4-H Club, AYSO soccer league, and the Winn-Bur-Sew fire department, serving as an EMT and on the arson unit. Cheri enjoyed traveling, spending time with friends and family, air shows, helping out on the farm, reading, all kinds of music, doing puzzles, attending Ice Hog games, hanging out with the Rockford College Breakfast Club, and was an avid Chicago Bears fan. She will be remembered for her sense of humor and mischievous smile. Cheri was a very caring person, always doing things to help others. Special thanks to the friends and relatives that visited, and to Pastor and Mrs. Moody for their many visits, besides the doctor and nurses and CNAs at VNA Hospice for all their help.

Cheri is lovingly survived by her parents, Richard and Jan McCray of Winnebago; sisters, Julie (Tony) Grotto of Winnebago and Amy (Chad) Clendening of Stillman Valley; very special nieces, Amelia McCray-Grotto of Winnebago and Kayla and Holly Clendening of Stillman Valley; and numerous aunts, uncles and cousins. Predeceased by her brother, Alan McCray on October 31, 1976; grandparents, Morris and Jerry Hamer and Earl and Myrtle McCray; and uncle, Morris "Bud" Hamer, Jr.

Funeral Information

Service at 11:00 a.m. Saturday, September 22, 2012, in Genandt Funeral Home, 602 N. Elida St., Winnebago, with the Rev. Larry Moody, pastor of Burritt Community Church, Rockford, officiating. Burial in North Burritt Cemetery, Winnebago. Visitation 5:00 p.m. to 8:00 p.m., Thursday, September 20, 2012, in the funeral home.
Read More