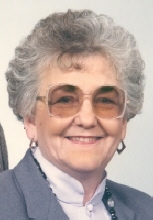 Obituary for Chloe Schwandt
Rockford - W. Chloe Schwandt, 91, of Rockford, died Tuesday, August 9, 2016, in The Villa at PA Peterson, Rockford. Born April 13, 1925, in Lowry, AR., the daughter of Wayne and Ruth (Journigan) Richesin. Graduated from Nampa High School, Idaho, in 1943. Chloe married Albert O. Schwandt on March 4, 1945, in Bloomington. Chloe was an active member of Middle Creek Presbyterian Church and its Women's Association, along with Westfield Grange. She enjoyed cooking for her family and tending her gardens. In addition, Chloe was an accomplished artist, developing her talent at the YWCA under Christy Andres' direction, a talented seamstress and jitterbug dancer in earlier years.

Chloe is lovingly survived by her children, Rod (Brigitte) Schwandt and Carole (Efrain) Santiago, all of Rockford; grandchildren, Daniel (Coni) and Alan (Monica) Schwandt, Marcos Rivera, and Allegra and Stephen Santiago; great-grandsons, Shea and Terrance Schwandt, and Sebastian Rivera; sisters, Neola Strom and Connie (Gene) Ertl; and several nieces and nephews. She was predeceased by her parents; husband, Al, on October 3, 2012; daughter, Kristen Schwandt on March 14, 1982; and sisters, Evelyn Romjue and Peggy Lay.

Chloe's family would like to thank the staff of PA Peterson and Hospice Care of America for their loving care and support.

Funeral Information

Service is at 2:00 p.m., Wednesday, August 17, 2016, in Middle Creek Presbyterian Church, 12743 Montague Rd., Winnebago, with visitation from 1:00 p.m. until service time; the Rev. Dr. Anita Stuart-Steva will officiate. Private burial in Middle Creek Cemetery, Winnebago.
Read More