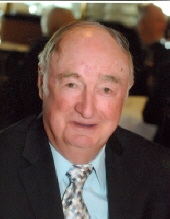 Obituary for Clark H. Leden
Winnebago - Clark Howard "Skip" Leden, 81, of Winnebago, died Friday, April 22, 2016, in Rockford Memorial Hospital, surrounded by his loving family. Born November 4, 1934, in Belvidere, the son of Howard R. and Evelyn M. (Clark) Leden. Graduated from Winnebago High School in 1952, received his B.S. in education at Eastern Illinois University in 1956, and M.S. in physical education from Eastern Illinois University in 1962. He served in the National Guard for six years. Skip married Dixie Mullinax on August 19, 1956, in West Salem, IL. He taught physical education and driver's education, primarily at Guilford High School, from 1967 to 1992. In addition, Skip coached the cross country and track teams. His girls' cross country team won first place state title in 1981 and he was inducted in the Illinois Track and Cross Country Coaches Association Hall of Fame. Skip then served as the athletic director at Auburn High School in 1992 before retiring. He was an active member of First Presbyterian Church, having served as a past elder and present trustee. Skip served as a Winnebago village board member, and presently on the zoning board. He was a charter member and ex-officio of FEE and an active member of the Winnebago Fans Association. Skip was an avid St. Louis Cardinal and Green Bay Packer fan. He enjoyed golfing and fishing, going on cruises with Dixie, and dearly loved attending all the sporting events of his children and grandchildren.

Skip is lovingly survived by his wife, Dixie; daughter, Julie (Wayne) Crannell of Sherman, TX; daughter-in-law, Pam (Dan Heitz) Leden of Ouray, CO; grandchildren, Graham Crannell, Michael (Katie) Krantz, Nicole "Nicki" (Chris) Kaufman, Elizabeth "Lizzy" Leden, and Lydia Crannell; great-grandson, Trevor Krantz; brother, Richard Leden of Albuquerque, NM; sister, Ann Leden Ascher Stevens of Tarpin Springs, FL; and several nieces and nephews. He was predeceased by his parents; son, Michael Leden on April 13, 2008; and brother, Robert Leden.

Funeral Information

Service at 11 a.m. Wednesday, April 27, 2016, in Genandt Funeral Home, 602 N. Elida St., Winnebago, with Pastor Carroll Smith of First Presbyterian Church, Winnebago, officiating. Burial in Winnebago Cemetery. Visitation 4 p.m. to 7 p.m., Tuesday, April 26, 2016, in the funeral home.