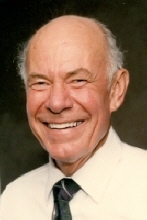 Obituary for Clifford Norman Hall
Grampa Honey

Winnebago - Clifford Norman Hall, 82, of Winnebago, died Sunday, December 29, 2013, in Willows Health Center, Rockford, after an extended battle with cancer. Born November 9, 1931, in Franktown, Colo., the son of Edward George and Julia Ernestine (Poole) Hall. Cliff was a lumberjack between 1948 and 1955 in Colorado. He served in the U.S. Navy in Pearl Harbor Naval Shipyard, Honolulu, Hawaii, from November 1956 to November 1958. He earned a Bachelor of Science-Mechanical Engineering Degree with High Honors from Colorado A M, Colorado State University, Fort Collins in 1954 and a Master of Science-Mechanical Engineering Degree with Honors in 1955 from Cornell University, Ithaca, New York. Cliff married Shirley Ann Watson on September 14, 1952, in Saint Phillips Church at Bear Creek - Sedalia, Colo. He was a Professor of Engineering Mechanics and Mathematics between 1956 and 1958 in the University of Hawaii, Oahu. In 1957, Cliff became a design engineer for Sundstrand Corporation, Denver, and then transferred to Rockford in 1966, having served as Chief Engineer at Sundstrand Aerospace Corporation, retiring in 1994. Upon retiring, he was a business and engineering consultant until 1997. Cliff was very active in Burritt Winners 4-H Club and the 4-H Foundation. He was a Gideon for over 20 years and was a part of the Reach-out Jail Ministry for seven years. Cliff was a founding member of the Mossbach Fox Hunting Club in Jo Daviess County for 30 years.

Cliff is lovingly survived by his children, Gail (Kreg) Kantak of Webster City, Iowa, Sally Jane (Gary) Cooper of Winnebago and Bradley (Robin) Hall of Galena; grandchildren, Samantha, Jessica and Andrew Kantak, Jacob and Noah Keller, and Tyler and Kristin Hall. He was predeceased by his parents; wife, Shirley, on February 14, 1992; and sister, Charlene Sinkovec.

Funeral Information

Service is at 11:00 a.m., Friday, January 3, 2014, in Genandt Funeral Home, 602 N. Elida St., Winnebago, with visitation from 9:30 a.m. until service time; Pastor Jay LeRette, of The Master's Inn, Rochelle, will officiate. Burial in North Burritt Cemetery, Winnebago.
Read More