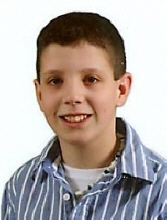 Obituary for Cole D. Trusler
Loving Son, Brother, Grandson, Nephew & Cousin

Winnebago - Cole D. Trusler (Crose), 15, of Winnebago, died Saturday, Dec. 24, 2011. Born Oct. 17, 1996, in Danville, the son of Dea (Winn) and Anthony "Tony" Crose and David (Lauren) Trusler. Cole was a freshman at Winnebago High School where he played on the football team. He loved playing baseball, football, basketball, wrestling and fishing with Grandpa Winn. Cole was a very loving and considerate son who enjoyed being with his family.

Cole is lovingly survived by his father, Anthony "Tony" Crose of Winnebago; sister, Alexis Crose of Winnebago; father, David (Lauren) Trusler of Champaign; half-brother Jackson; half-sister Grace; grandparents, David and Diana Winn of Oakwood, Diana (Donald) Lane of Ogden, David (Bonnie) Crose and Wayne Trusler, both of Danville, and Virginia (Bernie McClure) Trusler of Johnsonville, Ind.; aunts, Dana Winn of Fairmount, Danelle (Jason) LaFoe of Catlin, and Brenda (Dale) Cogdill of Monticello; uncles, Donald (Joy) Lane Jr. and Perry Lane, both of Oak Ridge, Tenn., and Tyler Verhoeven of Johnsonville; and cousins, Dustin Hughes, Joshua and Matthew Justus, and Skyeler LaFoe.

Funeral Information

Service at 7:00 p.m. Friday, Jan 6, in the Winnebago High School Gymnasium, 200 E. McNair Road, Winnebago, with the Rev. Doug Thiesen, of Heartland Community Church, Rockford, officiating. Visitation 4:00 p.m. until service time Friday, in the Winnebago High School Gymnasium.