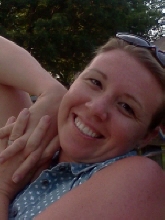 Obituary for Courtney L. Gilson
LOVING WIFE, MOTHER, DAUGHTER AND SISTER

Winnebago - Courtney L. Gilson, 30, of Winnebago, died Wednesday, February 19, 2014, surrounded by her loving family, after a courageous and graceful battle with cancer. Born March 22, 1983, in Rockford, the daughter of Brian Smith and Sharon (Cuthbertson) Coursey. Graduated from Winnebago High School in 2001 and attended Rock Valley College and then Lindenwood University, St. Charles, Mo. Courtney married Christopher M. Gilson on December 10, 2005, in Rockford. She was an administrative assistant at Rockford Orthopedic for five years and an active member of First Presbyterian Church. Loving gymnastics, for 27 years, Courtney was an athlete, coach, and team parent at J J Trampoline and Tumbling, Pecatonica, and toured internationally as a member of the U.S.A. trampoline team, from 1995 through 2001. She believed her biggest achievement was being a wife and mother; dearly loving her family with all her heart.

Courtney is lovingly survived by her husband Chris; daughter, Auberie; son, Keagen; stepdaughter, Adreienne; parents, Sharon and Rick Coursey of Winnebago; sister, Brianne (Chris) Carr of McDonough, Ga.; brother, Gabriel Smith of Lewis Center, Ohio; grandfather, Irvin (Esther) Cuthbertson of Billings, Mont.; nephews, Aiden, Mitchell, Matthew and Hayden; and several aunts, uncles and cousins. She was predeceased by her grandmother, Shirley Cuthbertson, and a cousin.

Funeral Information

Service is at 1:00 p.m., Monday, February 24, 2014, in First Presbyterian Church, 208 W. Winnebago St., Winnebago, with visitation from 10:00 a.m. until service time; the Rev. Steve Shullanberger will officiate. Cremation rites have been accorded. Burial of cremated remains in Twelve Mile Grove Cemetery, Pecatonica.
Read More