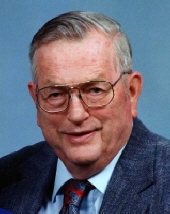 Obituary for Dale Fender
Winnebago - Arlen D. "Dale" Fender, 86, of Winnebago, went to be with the Lord Thursday, November 24, 2011, at home, surrounded by his loving family. Born on May 2, 1925, in Edgewood, the son of John and Mable (Bolin) Fender. Graduated from Woodstock High School. He served in the Navy, during WWII from 1944 to 1946, in the South Pacific. Dale married Merle Moate on December 6, 1947, in Rockford. He retired from the U.S. Post Office as a rural letter carrier in 1980, after 35 years of service. After retiring, Dale worked for McFarland's Office Supply for eight years. He was an active member of First Presbyterian Church, having served as trustee, and volunteered at the Rockford Rescue Mission. Dale loved gardening, playing cards and the pot lucks with the Westfield Community group, and enjoyed many cups of coffee and conversations with friends at McDonalds. Besides his quick wit, he was also known for humming or whistling his favorite song.

Dale is lovingly survived by his wife of 63 years, Merle Fender; children, Debbie (Sal Caiozzo) Cassioppi and Larry (Donna) Fender; all of Winnebago; six grandchildren, Allison (Tom) Hawkins, Paul Cassioppi, Kathy (Paul) Williams, Eric (Sarah) Fender, and Tyler and Erin Kelly; great-grandchildren, McKenna, Caden and Cameron Hawkins, Kelsey, Kara, and Korbin Williams, and Brennan and Carsen Fender; sisters, Juanita (Paul) Ebert and Linda (Terry) Holley; and several nieces and nephews. He was predeceased by his parents; daughter, Becky Kelly, on November 19, 2008; and brother, Robert Fender.

Dale's family wishes to thank the Heartland Hospice staff, Renae, Kari, Diane and Lisa, for their care and support.

Funeral Information

Service is at 11:00 a.m. Tuesday, November 29, 2011, in First Presbyterian Church, 208 W. Winnebago St., Winnebago, with the Rev. Steve P. Shullanberger officiating. Burial in Winnebago Cemetery. Visitation 5:00 p.m. to 8:00 p.m., Monday, November 28, 2011, in Genandt Funeral Home, 602 N. Elida St., Winnebago.