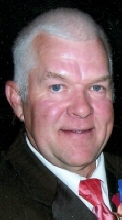 Obituary for Dale Kruse
German Valley - Dale A. Kruse, 61, of German Valley, died unexpectedly Tuesday, December 10, 2013, in Rockford Memorial Hospital, following surgery. Born January 17, 1952, in Rockford, the son of Walter C. and Erliss (Ekstrom) Kruse. Graduated from Winnebago High School in 1970 and served in the U. S. Army from 1972 through 1975, mostly in Bamberg, Germany. Dale married Rita Newman on January 19, 1974, in Rockford. Together, they farmed in rural German Valley, transitioning from dairy to beef. Dale was an active member of Silver Creek Reformed Church, having served as deacon and elder, Ridott Township trustee for 12 years, and a member of the Illinois Beef Association. He dearly loved being Grampa to McKenzie and Carson and truly enjoyed the companionship of his red heeler, Gussie.

Dale is lovingly survived by his wife, Rita; sons, Jeffrey (Tracy) and Bradley (Audra); daughter, Kacie (Harvey) Watts; grandchildren, McKenzie Watts and Carson Kruse; brothers, Daryl (LouAnn) and Ritchie Kruse; father-in-law, David Newman; and several brothers-in-law, sisters-in-law, nieces, nephews and cousins. He was predeceased by his parents; son, Michael A. Kruse, on November 7, 1992; nephew, Justin Cunningham; and mother-in-law, Millie Newman.

Funeral Information

Service is at 11:00 a.m., Saturday, December 14, 2013, in Silver Creek Reformed Church, 326 S. Bunker Hill Road, German Valley, with the Rev. Allen Schut officiating. Burial in Silver Creek Cemetery, German Valley. Visitation is from 4:00 p.m. to 7:00 p.m., Friday, December 13, 2013, in Genandt Funeral Home, 602 N. Elida St., Winnebago.
Read More