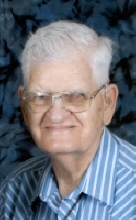 Obituary for Dale L. Buzzard
~~Winnebago Dale L. Buzzard, 86, of Winnebago died Friday, September 2, 2016 following a brief illness. Born July 14, 1930 in Chicago the son of Nelson C. and Mildred Eloise Cook Buzzard. He graduated from Olney Friends School in Barnesville, OH and then went on to earn a bachelor of science in 1953 and a masters degree in 1960, both in education from Northern Illinois University in DeKalb. Dale married Doris Ann Diezel on June 19, 1954 in Chicago. He worked as a counselor for the Department of Rehabilitation Services for the State of Illinois helping people with disabilities join the workforce. As an adult he was active in the Boy Scouts of America for many years and was a charter member of Risen Savior Lutheran Church in Byron. Dale loved reading, history, gardening, and traveling - especially in the western United States and cruising the Mississippi river. His most memorable trip was to the Panama Canal with his wife Doris and sister Dorothye. He was an avid fan at all of his granddaughters sporting events.

Dale is lovingly survived by his wife, Doris of Winnebago; sons, David (Teri) Buzzard of Pecatonica, John (Susan) Buzzard of Rockford; three granddaughters, Elizabeth Buzzard of San Francisco, CA, Mary Buzzard of Chicago, Julie Buzzard of Rockford; brother, Norman (Elaine) Buzzard of Tucson, AZ; several nieces and nephews.

He was predeceased by both parents; brother, Richard Buzzard; sister, Dorothye Knowles.

Funeral Information

~~Service at 11:00 a.m. Tuesday, September 6, 2016 in the Genandt Funeral Home, 602 N. Elida St., Winnebago with the Rev. Matthew Rosebrock, Pastor of Risen Savior Lutheran Church in Byron officiating. Burial in Winnebago Cemetery, Winnebago. Visitation 5:00 p.m. to 7:00 p.m. Monday, September 5, 2016 in the funeral home.
Read More