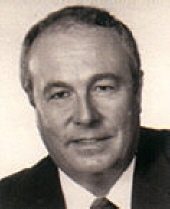 Obituary for Darrell Weslie Boomgarden
Beloved father and grandfather

Rockford - Darrell Weslie Boomgarden, 70, of Rockford, died Wednesday afternoon, March 21, 2007, surrounded by his loving family, in the VA Hospital, in Madison, after a massive stroke. Born August 25, 1936, in Rockford the son of Leslie and Lauretta (Weinreich) Boomgarden. Darrell married Artyst Gross on May 29, 1954; later they divorced. He served in the U.S. Navy from June 22, 1955 to May 17, 1962, in Company 240, during the Korean War. Darrell married Donna Crook on November 30, 1963; they also divorced. He was a tile setter and bricklayer for Northern Illinois Tile Terrazzo, was a real estate agent for Place Hodges, then was employed at Commonwealth Edison, before serving as a realtor for Whitehead Reality. Darrell was a member of Altus Elite, Moose Club, and Byron Sportsman's Club. He enjoyed hunting, fishing, dancing, riding his Harley, and most importantly loved being with his family.

Darrell is lovingly survived by his children, Guy (Kelly) Boomgarden of Fitchburg, Wis., Sheila (Brian) Spielman of Winnebago, Bradley (Pam) Boomgarden of Winnebago, Terreasa Spiese of Baltimore, Md., Wendy (Jim) Scheidecker of Byron and Robin (Scott) Janouskovec of Batavia; grandchildren, Nicholas and Alex Boomgarden, BreAnna (Matt Hughes), Benjamin, Brennan, and Branigan Spielman, Bradley, Jr., Zachary and Isiah Boomgarden, Erec and Steven, Jr., Spiese, Reed and Rachel Scheidecker and Kurt and Kylie Janouskovec; great-grandchildren, Alexandra, Brayden and Connor Hughes and Mya Scheidecker; brother, Donald Boomgarden, sisters, Joyce Williams and Nancy (Roger) Parrish and numerous nieces and nephews.

Darrell was predeceased by his parents, brother Richard Boomgarden and sister, Janice Boomgarden.

Funeral Information

Service is at 1:00 p.m., Sunday, March 25, 2007, in Genandt Funeral Home, 602 N. Elida St., Winnebago, with visitation from 11:00 a.m. until service time; the Rev. Steve P. Shullanberger, pastor of First Presbyterian Church, in Winnebago, officiating. At Darrell's wishes, cremation rites will be accorded.
Read More