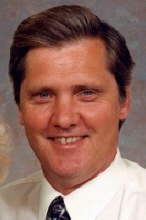 Obituary for David C. Watson
Dave the Painter

Rockford - David C. Watson, 54, of Rockford, lived on this earth from July 18, 1954 to September 19, 2008, after his fight with cancer, which he fought until the very end. David loved his family, related and non-related, loved his dogs, Bud, Miss Ellie and Shorty, and loved his job at the Rockford school district, where he was employed as a painter. He appreciated the peaceful life "on the farm".

David's family would like to thank the caring people at the Cancer Treatment Centers of America, in Zion, SwedishAmerican Home Health Care and Infusion Services, and the people who walked to the very end with us, Heartland Hospice. The family also has a great appreciation for all our friends and family, too numerous to name, who have supported us in their own way through all of this.

David is lovingly survived by his wife of nine years, Nancy; stepdaughter, Jessica Miller; mother, Patricia (Bertsch) Watson; aunt, Edna Bertsch; brothers, John (Beth) Watson, of Ore. and Richard Watson of La.; sister Jane (Ed) Simpson of Va.; mother-in-law, Phyllis Zamowski; and his beloved nephews and niece.

He was predeceased by his father, Charles Watson; uncle, Jack Bertsch; and father-in-law, Charles Zamowski.

Funeral Information

Service is at 11:00 a.m., Saturday, September 27, 2008, in Genandt Funeral Home, 602 N. Elida St., Winnebago, with visitation from 9:00 a.m. until service time. Burial in Willwood Burial Park, in Rockford.
Read More