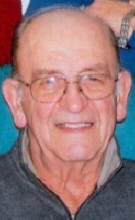 Obituary for David F. Booker
Winnebago - David Franklin Booker, 79, of Winnebago, died Friday, December 26, 2014, in his home, after a long illness, surrounded by his loving family. Born October 6, 1935, in Hamblen County, Tenn., the son of David F. and Lura (Davis) Booker, Sr. He graduated from Winnebago High School in 1953. Served in the US Army National Guard until 1964. David married Phyllis Grove on March 26, 1960 in Winnebago United Methodist Church, and they raised their family in Winnebago. He worked as an industrial engineer and had a long career in the machine tool industry. After retiring from Barber Coleman in 2000, he enjoyed working part-time at Janssen Machine in Loves Park. David was a long-standing member of the Winnebago United Methodist Church where he held several leadership positions. He was active in his community, serving on the Winnebago Village Board of Trustees from 1967 - 1975 and as Village President from 1977 - 1985. David also served on the Winnebago Village Zoning Board, Winnebago School District Reorganization Committee and he was a founding member of the Foundation for Educational Excellence for Winnebago School District 323. He was an avid golfer and coached baseball in Winnebago for many years. David was a proud father, grandfather and great-grandfather and loved spending time with his family. He was a true gentleman.

David is lovingly survived by his wife, Phyllis; children, Aaron Booker, Michael (Nancy) Booker, Susan (William) Buck and Daniel (Elizabeth) Booker; grandchildren, Camilla, Jacob and Sydney Booker, Seth and Sophie Booker, Bryce and Hannah Buck, and Liliya and Naomi Booker; great-grandchildren, Holli and Gavin Hitch and Hannah Warmuth; brother, Charles (Pat) Booker; sisters, Fran Booker, Carole Dempsey and Shirley (James) Mihm; sisters-in-law, Donna Booker, Mary Jane Stahl, Dorothy (Bill) Straw, and Martha Remmers; brother-in-law, Ken (Janet) Grove; and many loving nieces, nephews and cousins. He was predeceased by his parents; sister, Barbara Willis; and brother, John Booker.

Funeral Information

Service is at 11:00 a.m., Monday, December 29, 2014, in Genandt Funeral Home, 602 N. Elida St., Winnebago, with the Rev. Matthew Smith, pastor of Winnebago United Methodist Church, officiating. Burial in Winnebago Cemetery. Visitation 2:00 p.m. to 5:00 p.m., Sunday, December 28, 2014, in the funeral home.
Read More