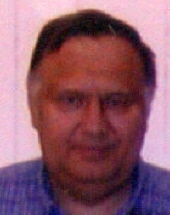 Obituary for David K. Ihne
Loving Son, Brother, Uncle & Friend

Winnebago - David K. Ihne, 54, a life-long resident of Winnebago, died Tuesday morning, November 22, 2005, in SwedishAmerican Hospital, after a long and courageous battle with diabetes. Born February 10, 1951, in Rockford, the son of Merle Henry and Ilsa M. L. (Kimpel) Ihne, Sr. He graduated from Winnebago High School in 1969 and received his Associate degree from Rock Valley College and Bachelor of Arts degree from Northeast Missouri, Kirksville. David was employed as a shipping manager at various Rockford manufacturing companies. He was an active and dedicated member of Winnebago United Methodist Church. David was a member of the Phantom Regiment, and active with Winnebago Masonic Lodge 745 AF AM, Freeport Consistory and Tebala Shrine's Drum Bugle Corp. He performed volunteer work with amputees and for several years he served as an election judge for the Village of Winnebago. David enjoyed reading his Bible, poetry and history. His hobbies included fishing, photography and leather crafting.

David is lovingly survived by his mother, Ilsa Ihne of Winnebago, sister, Linda (Donald) Skwierawski of Galesville, Wis., brothers, Merle (Suzanne Seeber) Ihne, Jr. of Muscatine, Iowa and John W. (Rebecca) Ihne of Rockford, nephews, Merle Ihne, III, Michael Ihne and Matthew (Connie) Skwierawski, nieces, Michele (Jeremy) Jones and Molly (Brian) Dado, great-nephew, Mason Dado, great-nieces, Julia and Gracia Skwierawski and special friends, Vivian, Susan and Tom.

David is predeceased by his father, Merle Ihne, Sr., on June 7, 1981.

Funeral Information

Service is at 11:00 a.m. Monday, November 28, 2005, in Genandt Funeral Home, 602 N. Elida St., Winnebago, with visitation from 10:00 a.m. until service time. The Rev. Rick Neblock, pastor of Winnebago United Methodist Church, will officiate. Burial in Willwood Burial Park, in Rockford. Visitation also at 2:00 p.m. to 4:00 p.m. Sunday, November 27, 2005, with Masonic rites at 4:00 p.m, in the funeral home.
Read More