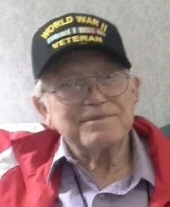 Obituary for David L. Sitton
Loving Husband, Father, Grandfather and Great-grandfather

Winnebago - David L. Sitton, 90, of Winnebago, died Tuesday, September 8, 2015, in his home. Born February 7, 1925, in Louisiana, MO, the son of Harry and Bertha (Mitchell) Sitton. Served in the U.S. Army in the Philippines, as corporal, from June 3, 1943 to December 24, 1945, during WWII. David married Dorothy M. Pemberton on February 6, 1948, in Charleston, MO. They moved to Rockford in 1956 and then to Winnebago in 1961. He was a machinist at CamCar for 32 years. David was an active member of Rockford United General Baptist Church. He enjoyed fishing, farming, hunting, and gardening and dearly loved all the family gatherings.

David is lovingly survived by his wife, Dorothy; children, Evelyn K. McCulley, Norma (Roy) Kloster; Sherry Tripp, Terry L. (Sarah) Sitton, all of Winnebago; daughter-in-law, Mary Lou (Ken Marcum) Sitton of Harlingen, TX; 16 grandchildren; 41 great-grandchildren; numerous nieces and nephews; and beloved pets, Suzy and Gypsy. He was predeceased by his parents; son, Lester L. Sitton on May 8, 2008; three brothers; and three sisters.

Funeral Information

Service at 11:00 a.m. Saturday, September 12, 2015, in Genandt Funeral Home, 602 N. Elida St., Winnebago, with visitation from 10:00 a.m. until service time. Cremation rites have been accorded. Private burial at a later date in Winnebago Cemetery.
Read More