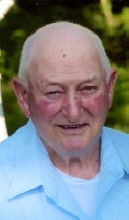 Obituary for David Wesley Newman
Winnebago David Wesley Newman, 87, of Winnebago passed away Friday, January 6, 2017 in his home surrounded by his loving family. Born January 12, 1929 in Rockford the son of Wesley August and Edna Rose (Burch) Newman. Graduated from Winnebago High School in 1947. David married Mildred Millie Jane Pals on February 8, 1952 in Leaf River. They farmed together for over 50 years until her passing on June 1, 2006. David began milking cows and doing chores as a young boy and that continued on every day until March 23, 2013 and then he continued helping his son Warren Newman with farming until 6 months ago. After that he spent many hours watching his birds and especially loved humming birds.

Davids family gives special thanks to the VNA Hospice nurses, especially Kim, Cindy and Tony, Davids daily helper.

David is lovingly survived by his children, Rita Kruse, Juanita (Gregory) Cunningham, Mary Ellen (Scott) Droy, Wesley (Diane) Newman, Warren Newman; grandchildren, Jeff (Tracy) Kruse , Bradley (Audra) Kruse, Kacie (Harvey) Watts, Eric (Ginnie) Cunningham, Todd (Jayme) Cunningham, David (Britta) Droy, Megan Guthrie, Brandon Droy, Kyle Newman, Melissa Newman; 11 great-grandchildren; brothers Wayne Newman, Paul (Dawn) Newman; sisters, Ruth (George) Moate, Janice Seyler, Lois (Dewey) Heslop; many nephews and nieces.

David is predeceased by his wife Millie Newman; grandsons, Michael Kruse, Justin Cunningham; son-in-law Dale Kruse; brothers, Robert, John; sisters, Mary, Bernice, Alice.

Funeral Information

Funeral service 12:00 p.m. Tuesday, January 10, 2017, with a visitation 10:00 a.m. until service time at Genandt Funeral Home, 602 N. Elida St., Winnebago with Pastor Tim Spickler of New Life Bible Church near Winnebago officiating. Private interment in North Grove Christian Cemetery near Egan.